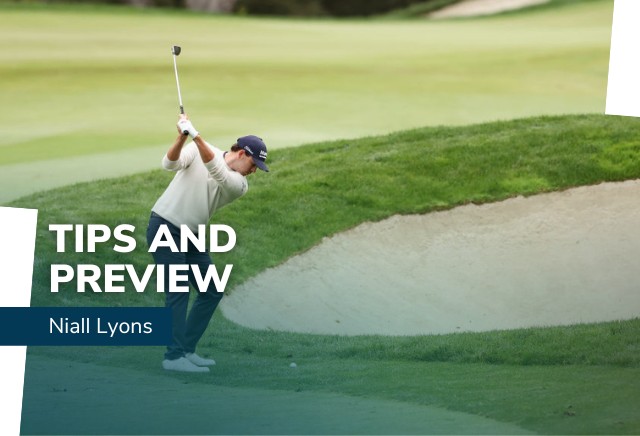 Niall Lyons shares his golf betting tips and preview for the Pheonix Open.
Pheonix Open
We have been treated to some entertaining Monday finishes the last couple of weeks but those making the trip from Pebble to Arizona may struggle to keep pace with those coming in fresh. Pebble was a very stop/start week and the delays and Monday finish won't have suited those who are travelling to Scottsdale.
Throw in longer rounds and amateur partners and we will surely have some struggling for either mental or physical energy. That's not to say they would have been up against it anyway, as last week's favourites Spieth and Fitzpatrick will be a fair way down the field here in the betting as the PGA Tour welcomes its strongest field to date in 2023.
Bombers have never historically been favoured here but the last two winners of Scheffler and Koepka with runner ups of Xander and Cantlay certainly suggest there could be a shift in the making. Ball striking is key anyhow and hitting greens favoured over everything else. A nod to desert form either from the American Express and Shriners events is another vital aspect to preparation this week.
Patrick Cantlay at 20/1 (Eight Places)
With this being an elite field this tournament will more than likely go to one of the world's best and someone who has beaten a field of this quality once before. Patrick Cantlay has a stunning record in the desert and at 20/1 represents the best bet towards the head of the market.
Cantlay has a win and three runner up finishes at Summerlin in five attempts as well as one runner up here at Scottsdale on his first appearance last year. He went down to Scheffler in a playoff which sparked the start of his outrageous run to being Masters Champion. Cantlay has still lacked something in that department so far not making his mark in the majors.
Nevertheless his record in these strong tour events is second to none. He has won the last two renewals of the BMW Championship, two of the strongest fields assembled on the regular tour. Add in a FedEx win in 2021 and we have someone who clearly belongs in the conversation of the top handful of golfers in the world. Majors are the next step, and maybe it'll just take time for him to realise his potential in those events but his credentials for a test such as this is second to none.
He went off a 16/1 shot last August for the BMW (a field that contained 19 of the top 20 players priced in the market this week) and turns up here at 20/1 in an event where he was beaten in a playoff on debut. Add in his form in Vegas and I can't quite have Cantlay 8pts bigger than the third favourite Scheffler.
3pts each-way P.Cantlay 20/1 (1/5 8) Bet365
Patrick Cantlay - 3pts e/w @ 20/1
Tyrrell Hatton at 55/1 (Eight Places)
Justin Thomas is interesting at 22/1 given his record here and his prolific nature of winning in the last seven seasons. This is one of his more consistent courses but he has been found wanting with the putter the last few months. That could change at any moment though and backing that type of number about Thomas every time won't have you going poor quickly.
33/1 about Fitzpatrick is another carrot difficult to turn down with his only effort here resulting in a top 10 finish. He struggled in conditions at Pebble but on Sunday came back to play his final nine holes in 3 under par. He didn't have to go back on Monday so will have a little extra rest than those who won't arrive in Scottsdale until Tuesday at the earliest.
Instead I'm going to opt for someone who just two starts ago produced an effort that if repeated would go very close to winning here. Tyrrell Hatton signed off 2022 finishing behind the imperious Jon Rahm in Dubai and has started off this year once again in those parts with a top 10 in Abu Dhabi, then a lowly 38th in the Dubai Desert where his putter misbehaved.
The runner up to Rahm in November is a sign of what he can do and he seems to raise his game in lofted company. Four of his five statistically best events last year came at the Arnold Palmer (2nd), PGA Championship (13th), Players Championship (13th) and the afore mentioned runner up to Rahm in November. Add in 11th at St Andrews in July and we have someone regularly producing the goods in fields of this high quality.
Hatton's only previous here was back in 2019 where he finished 15th. The Englishman relishes these challenges and anything at 50/1 or above is a tempting wager for someone who is very capable of competing with the best of them here.
2pts each-way T.Hatton 55/1 (1/5 8) Bet365
Tyrrell Hatton - 2pts e/w @ 55/1
Keegan Bradley at 66/1 (Eight Places)
It is difficult not to wade back in on Keegan Bradley at anything above 50/1 here in Arizona. Bradley is in the form of his life right now and was only narrowly denied a second win of the season last time out at Torrey Pines with ice cool Max Homa clinging on to victory.
He actually played better in defeat in San Diego than when he won the Zozo back in October. His ball striking remains a tour de force in his career being capable of producing efforts in that department to rival the world's best all be it a shade more inconsistent than those above him in the world rankings.
The main difference in the last number of months has been the putter which has bounced back to his best levels pre the anchoring ban in 2016. He is far from guaranteed a good week on the greens but the potential spike in that department is eye watering nowadays, as was seen last time out at Torrey where he topped the putting stats for the week.
He topped the same stat when runner up at the Wells Fargo back in May also. Bradley has made nine from 11 cuts here and on almost every occasion his ball striking has been up to the level you'd expect of him.
The problem here down the years has been on the greens and I'm hopeful there is a lot fixed in that department. He is playing to the standard of a top 10 golfer in the world right now so even though I don't consider desert golf to be his strongest hand, the price alone means we have to invest.
1pt each-way K.Bradley 66/1 (1/5 8) Bet365
Keegan Bradley - 1pt e/w @ 66/1
Sam Burns at 50/1 (Eight Places)
Sam Burns looked rusty during his opening couple of rounds in Honolulu but 67,69 over the weekend was a springboard to a better effort a few weeks later at the American Express. There in California all departments of his game were in fine working order and a drift towards the 50/1 looks a little risky by the bookmakers.
The last time these group of players all gathered together in the one tournament was for the BMW Championship last August where Burns went off a well fancied 25/1 shot. Since then he has had three top 12 finishes in decent company and has done little to suggest he warrants to be priced up at 50s this week.
The likes of McIlroy and Rahm have undoubtedly set a higher bar in recent months but I'd still remain confident Burns should have more respect in this market and be priced alongside the likes of Cam Young.
1pt each-way S.Burns 50/1 (1/5 8) Bet365
Sam Burns - 1pt e/w @ 50/1
Aaron Wise at 100/1 (Eight Places)
Plenty will need a career best effort to take home the spoils here but one who has reached those levels before and remains at a big price is Aaron Wise. Wise was 2nd in the Memorial last June, and 6th in the CJ Cup in October and a repeat of either of those performances from last year would see him go close here in Arizona.
He has yet to make his mark here at Scottsdale in three outings but two top 10s and a further top 20 finish at Summerlin suggests he is capable of scoring well on desert tracks. Wise has played well this season with four top 25 finishes and his recent missed cut in California is of little worry. He shot 2 under on day one at the American Express before 6 under over his next two rounds saw him narrowly miss the halfway cut.
His first round of two under par at the Stadium course was a fair effort given he ranked third last in the field with his approach play that day. We can presume that improved over the next two days. His iron play has been a real strength these past 12 months and four rounds on the same track should be a little more up his street.
At the Shriners in October he went off a 22/1 shot tucked in behind the likes of Max Homa. Performances since certainly don't suggest he should be as big as 100/1 for success in the desert.
1pt each-way A.Wise 100/1 (1/5 8) SkyBet
Aaron Wise - 1pt e/w @ 100/1
Joel Dahmen at 175/1 (Eight Places)
Tom Hoge certainly looks backable around the 80/1 mark but a long week in Pebble is enough for me to favour a few others. Davis Riley is another whose results may not give the true indication of how well he is playing. Ball striking wise it's impressive enough and any upturn on the greens could see him outplay his odds of 200/1.
The most tempting of all the outsiders though has to be Joel Dahmen. Dahmen had to go back to Pebble on Monday to finish his round and although I'm not all that keen on backing those who played the pro am I can't help but involved with Joel at 150/1. Dahmen has played tremendous golf since October with three top 10 finishes and a further two top 20s.
His game doesn't exactly scream out that it will perform in the desert but it is worth noting he has a top ten finish in Summerlin back in 2020. 10th at the US Open in June is a sign of what he can do in this company and although he probably favours tougher conditions the price dictates the bet here.
1pt each-way J.Dahmen 175/1 (1/5 8) Betfair Sportsbook
Joel Dahmen - 1pt e/w @ 175/1