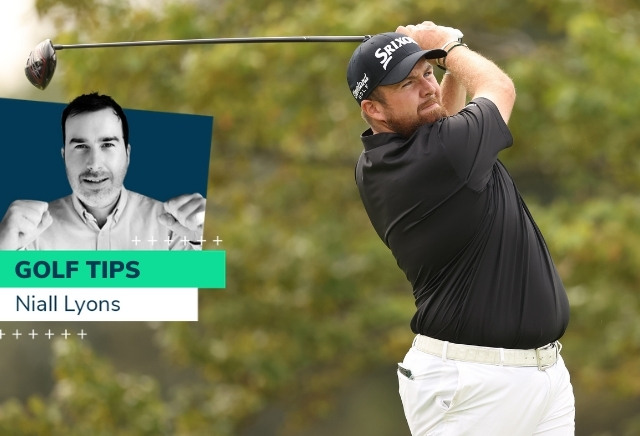 Niall Lyons has previewed the Irish Open, with a 3.5pt headline tip
Irish Open - Winner
The course at Galgorm has had plenty of traffic on the Challenge Tour in recent years and the majority of the field have some sort of experience around the layout. Having played it a few times I'd hope to offer some extra wisdom but truth is it's difficult to weigh up. No type of particular game has excelled here down the years although there is plenty of trees to cause trouble with wayward tee shots.
Shane Lowry starts as favourite and is an interesting betting prospect to me despite some sketchy form of late. Lowry's best finish since the return was 6th in the WGC at St Jude. He has played poorly for his standards since but should strip fitter for the made cut at Winged Foot last week where he had his second best putting performance since returning to action eleven events ago. He has been struggling with the flat stick lately and a return to form on the greens last week is most welcome. Around the green was where his troubles lay last week and I fully expect him to put that right this week as negative strokes gained total around the greens for Lowry isn't all too common lately. Overall, we have a reigning Open Champion here and the jury is most certainly out whether anyone else in the field will ever win one of those prizes again. There are a handful in form towards the top of the market, most notably Coetzee, but he couldn't oblige in a much weaker event in Portugal last week. I don't think Lowry is one to take wins for granted and this is a huge opportunity to become a double Irish Open Champion like so many greats of the past. With a decent start I think he could pull it off comfortably.
3.5pts WIN S.Lowry 8/1
Shane Lowry - 3.5pts @ 8/1
My approach is relatively straightforward this week and I'll be backing another clear candidate towards the top in Ryan Fox. On the European circuit Fox has been consistent with four top 20s in a run of 7 made cuts on the trot before being guillotined at Winged Foot at halfway. This return to form can be partially attributed to a new Caddy in local man Chris Selfridge. Selfridge was friends with Fox when they played on the Challenge circuit and has since given up the pro game to be a caddy. The spell with Michael Hoey has been ended and he took over Fox's bag for the return at the British Masters. All this comes together nicely for a return to a venue where Fox made a big breakthrough to get onto the big boy tour. I was lucky in the sense I stumbled upon Fox at Galgorm on the final day of his 2016 triumph early doors on the second hole. I walked with him the rest of the way and what I witnessed I shall never forget. I've seen Tiger in the flesh win a WGC by a mile in his pomp, but nothing impressed me more with the naked eye than Fox that Sunday. He needed to go 2 under his final 3 holes to shoot 59 but succumbed to a bogey on the 16th. Overall though it was the most impressive display of golf I've seen and I'd suggest he has barely played as good a round since. A return to this scene though should get the juices flowing and with the help of Selfridge, who has an apartment close to the course, they could be a formidable duo this week.
2pts each-way R.Fox 25/1 (1/5 6 places)
Ryan Fox - 2pts e/w @ 25/1
It may pay to stick with Garrick Higgo after his maiden tour win in Portugal last week. The South African is rated almost three times the price of Coetzee despite toppling him last week and earlier on in the year at the SA Tour Championship. He won that prestigious event in South Africa beating the country's best and has since finished 6th in Euram, and 7th at this track at Galgorm a few weeks ago. Finishing 68-67-65 over the final few rounds was as good as the rest of the field and only a first round 72 scuppered his chances. He stayed on impressively for the win last week in Portugal and the big performances have been mounting for this talented 21 year old. It'd be no surprise if he continued on his merry way and the odds compared to Coetzee just don't look right to me.
2pts each-way G.Higgo 28/1 (1/5 8 places)
Garrick Higgo - 2pts e/w @ 28/1
Finally I'll have a small, hopeful wager on Padraig Harrington. A winner in this event before he is another who should really relish the opportunity. It has been a long time between drinks for the Irishman with the Portugal Masters his last victory back in 2016. Playing on the two big tours he has shown the odd glimpse but mostly poor form. 20th at the Nedbank towards the end of last year is the best it has been for a while. Nevertheless he still managed two other top 20s in big events on the European Tour in 2019 and managed a 12th spot in the Byron Nelson back in 2019 also. Overall, on his day he can compete with the best of these. I'm hoping a long spell in lockdown where he has tremendous practice facilities has tightened his game somewhat and he can come out firing in an event which must look tasty to him on paper. Harringtown will never give up and it'd be no surprise should he stage a rally late on in his career. Plays well on these shores and worth chancing at triple figures that his game has improved at home the past few months.
0.75pt each-way P.Harrington 100/1 (1/5 7 places)
Padraig Harrington - 0.75pts e/w @ 100/1