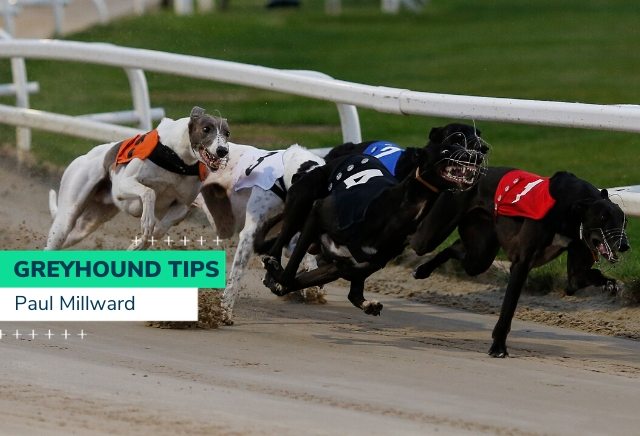 Our expert Paul Millward has tips for today's greyhound racing.
14:28 Henlow
There are many reasons why Mark Wallis is a multiple champion trainer and one of them is his and his team's ability to bring a young greyhound through the grades. Step forward JAXX PURPLE (Best price 2-1), who looked nothing more than fairly moderate in her first couple of races in A6 company in October.
She left that form behind in her next race, winning as she liked. She looked highly tried on her next couple of starts when pitched in open race company at Monmore in November. Not seen in action again until towards the end of February, she looked a whole different proposition as she blew away her A5 rivals with a last to first success.
Easy wins in A4 and A3 followed rapidly in behind and Jaxx Purple finds herself just one step away from the top grade and, who knows, perhaps a whole lot more. She has something to find on the clock with one or two of her rivals today but it has been the manner of the way she has been winning her races that stands out and, with plenty more improvement to come, she should be up to this task.
Jaxx Purple - 2pts @ 2/1
18:39 Sheffield
With five sprint wins from five runs so far this year, and in good class open race company at that, INCA CONEY (Best price 8-13) is almost impossible to get away from in this two-bend event. Backing odds-on shots is not the favourite hobby of many a punter, but just about everything in this race points to another success for this locally-trained bitch.
Her main two rivals go from her immediate outside in five and six and, while they are very capable sorts on their day, it is tough to envisage either outpacing Inca Coney into the all important first bend and she is expected to come out an easy winner.
Inca Coney - 5pts @ 8/13
18:49 Monmore
The draw is key for QUEEN JESSIEJ (Best price 11/10) in this this £12,500 Ladbrokes Puppy Derby final and can provide the Liz and Rab McNair training team and the KSS syndicate with yet another big race success.
With a slower start going from trap one and the rest of the field confirmed middle or wide runners, the cleanest of runs into the first bend appears very much on the cards for this exceptionally talented bitch. Her lack of experience (this is the fourth race of her career) is a niggling worry but she has so far been flawless in this event.
Coming away well again, she should be more than capable of turning in front and that should really be that.
Queen Jessiej - 1pt @ 11/10
19:23 Monmore
With four wins from his last six outings including a runaway success just over a week ago, GEORDIE BOY is certainly of interest again this evening. Much will depend on the what happens in the early exchanges but if he can hold his pitch going into the bend, he should hit the back straight with his nose in front.
The downside is that Geordie Boy does have the occasional blip at the start, which is an obvious worry. The upside to that is that he is offered at a very backable price. Just pray for a swift getaway.
Geordie Boy - 0.5pts
20:24 Sheffield
We love a greyhound on a roll and CONEY KRAKATOA (Best price 13-8) fits that bill big style. A winner of six of his 11 starts, he has shown vast improvement from his debut over this trip at the end of last year and is now notching up open race wins for fun, completing a hat-trick here a week ago.
It is also worth noting that he is a relative novice and there could be yet more improvement to come. Coming away as well as he can, his excellent early pace is expected to carry him clear by the first bend and, if that comes to pass, it is likely to be plain sailing from there on.
Coney Krakatoa - 1pt @ 13/8
21:18 Sheffield
A cracking final for the £10,000 RPGTV Steel City Cup and it could pay to side with HEADFORD RANGER (Best price 5-2), who has really shone in the event so far. His odds would be a fair deal tighter than what bookmakers are currently offering as there is this perception that his draw in trap five is less than ideal. We disagree.
Whichever trap he has been in, there is very little evidence to suggest that he ducks towards the rails from the traps. He generally runs straight on the dash to the first bend and, if he comes away to a level break tonight, his superb turn of foot into the first bend is likely to win the day.
It is also worth remembering that Headford Ranger is not all about early pace, he is more than capable of coming from off the pace over these type of distances and in this kind of company.
Headford Ranger - 2pts @ 5/2