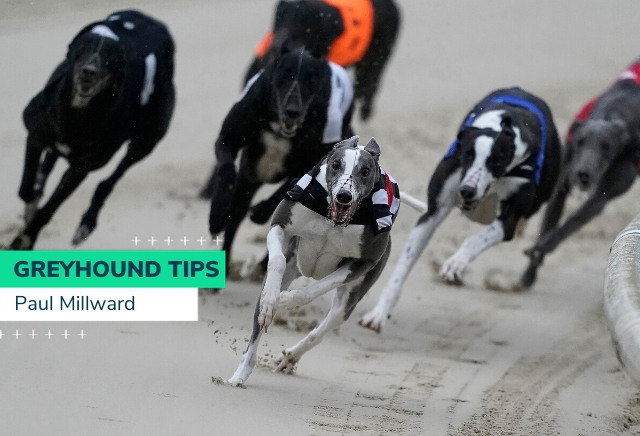 As UK greyhound racing returns, Paul Millward is back with three tips.
13:27 Central Park
After a lengthy break from racing, winner finding for the next couple of weeks could be a tricky task, but we have to start somewhere and LEG IT LIAM (best price 9-4) at Central Park is interesting enough. He was in splendid form before the lockdown with three wins from four at this level and his two comeback trials would suggest he is not far off his best going into this contest.
Given a decent getaway from his prime trap one slot, his pace to the first bend is likely to see him turn in front and that could well be enough to see him continue his good run. A few of the others are in with a shout and Jester Ted would certainly make a race of it if coming away and he might be worth covering with in forecast bets and the like.
Leg It Liam - 1pt @ 9/4
15:07 Monmore
Before the lockdown, SHANEBOY BATT (best price 6-4) signed off with a most convincing win at this level and there seems little reason to suppose he cannot follow up on that success today. Although not the most consistent from the boxes, he more than makes up for that with his undoubted speed into the first bend and will prove tough to beat if leading into the turn.
The draw in trap five looks fine and he should have the edge over another early paced sort in the shape of trap six runner Ardera Laval come the bend and, while there are some useful sorts elsewhere in the field, Shaneboy Batt is taken to build a winning lead by the end of the back straight.
Shaneboy Batt - 0.5pts @ 6/4
20:51 Nottingham
It is usually best to watch newcomers for a race or two but when finding one that looks kind of 'thrown in' on his or her debut, that rule goes flying out of the window, so step forward SUNFIRE SHELLY (best price 15-8). This well-bred bitch has come on in leaps and bounds in her qualifying trials and a debut win is very much on the cards.
In her latest trial, she came from off the pace to beat a seasoned and useful performer in the shape of Dark Ocean and there is likely to be a whole heap of further improvement left in this Barry Denby-trained youngster. It is doubtful that she will have the pace to live with a couple of these early on but, with luck, she should turn in a fairly handy pitch and can prove too much of a handful for her rivals in the second half of the race.
Whether she comes up trumps today or not, Sunfire Shelly could be one to keep an eye on in the future and, eventually, she may well prove a useful sort over longer distances than this.
Sunfire Shelly - 1pt @ 15/8