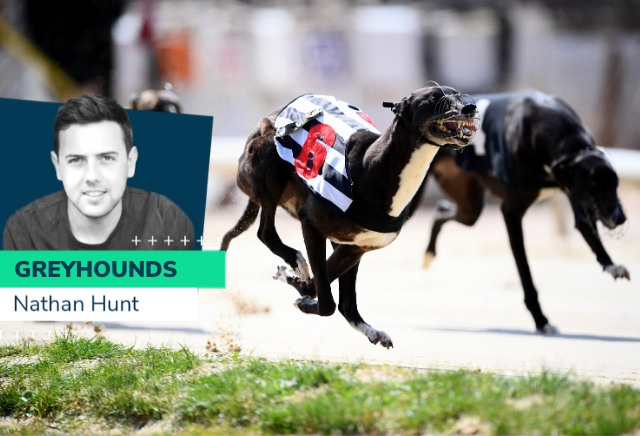 Nathan Hunt is one of Britain's youngest greyhound trainers. In the first of a weekly column, he tells oddschecker how he got started in the sport.
My name is Nathan Hunt - at 26, I'm one of the youngest greyhound trainers in the UK and am delighted to be able to take oddschecker inside my world each week as I prepare elite canine athletes at my Cambridge kennels both to run at my home track, Romford and in major races across the UK.
"Each week, I will give you an insight into how I do my job and some of the quirkier stuff you didn't know about greyhound racing - not to mention the odd tip and dog to watch! But first a bit about your new columnist and how I fell in love with this great sport as a young boy back in South Wales...
My background
"I didn't have much of a background in the sport from my family, but we had dogs growing up. I was actually introduced into racing by my neighbour, Lynn Short, when I was about 10.
"She was a trainer and promoter at Swansea Greyhound Stadium. I started going racing with her and her son and fell in love with it. Soon she'd given me two of her dogs to train and I became her kennel hand.
"A few years later, Lynn bred a litter of pups and pulled one out for me. I needed someone to rear it so I contacted Romford trainer Phil Simmonds out of the blue and he reared it for me.
"When the dog, named Castell Henry, was about 15 months old he asked if I'd be interested in doing it full time so I moved to Cambridge aged 21 in July 2015. Castell Henry won the Puppy Derby in March 2016 which was a prestigious race and big prize pot - and it was then I knew I had a future in the sport.
"I started off as a kennel hand, head kennel hand and then worked my way up to assistant trainer in the start of 2019 - and then Phil retired and I took up the license in February of this year, just before lockdown!
"I'd been working for Phil for four and a half years and he obviously saw something in me to think I'd make a good trainer. There are so many highs and lows in the sport, he'd probably had enough and saw me as the future. I was his assistant and now he's my assistant, we flipped roles!
"If I make mistakes, I will learn from them but if I'm unsure it's still great to an experienced trainer on hand for advice and guidance. I'm still learning new things every day. People who have been in the sport for decades will tell you they are still learning because everything evolves so much."
What gets me out of bed in the morning?
"I enjoy the end result - when you work all week and you see the dogs you've trained perform, there is no better feeling. I like the fact that every dog is different and the skill is working out what they like and how to get the best out of them. We all do it for the moment the traps open and we get to see them doing what they love.
"I enjoy having the puppies, breeding and schooling them, seeing them grow and evolve before they head to the track for the first time. I want them to turn out like Castell Henry, any pup that comes through I compare to him - he was the benchmark for my career.
Pups getting used to the sand between the toes! @BGBF_LTD @studbookuk @GreyhoundBoard pic.twitter.com/figuCW1X4d

— Nathan Hunt (@NHunt67) July 9, 2020
"Training is mostly common sense. You need to keep them as happy as you can. As long as you keep them in a positive frame of mind and well fed, they should run well for you.
"You're either a dog person or you're not and if you are, you get to know in time how a dog behaves and what makes them happy. We employ a lot of people and you can tell when a dog vibes off one of my members of staff. And it helps that greyhounds are so placid and easy going."
I've got a major finalist this weekend - I can't wait
"One of my dogs, GRAYS CUP WINNER, runs in the final of the prestigious Kent Silver Salver sprint tournament on Sunday. Given it's the first big race final since lockdown was eased, I'm buzzing to be a part of it. It's massive to be involved and pleased to be there in a very strong final with a dog who has come straight into the competition without a run.
"He's done very well to get to the final considering how long he's been off the track - he hasn't raced since November due to injury and then the lockdown, but you'd never know it given his performances in the heats.
"He's one of the oldest dogs in the race as a three-year-old and he perhaps has a yard less pace than some of the youngsters at their peak - but he's a proven dog who has won big before.
"I'm really impressed with the way he has come back to compete at the top level after being off the track for so long, and there's certainly no rustiness. He's in Trap 5, which isn't too bad although I'd have preferred Trap 3 - and if he's to win, he'll need to start the race like lightning to get ahead.
"Shrewd Call in Trap 3 looks exceptional and is deservedly favourite, but I've also been impressed by the youngster Ballynabee Lucky in Trap 1, he's slipped under the radar but has been faultless so far."
"I made a bit of a storm on social media this week as I showed Grays Cup Winner's post semi-final snack - a bit of a cheeseburger and some chicken nuggets from McDonalds! The dogs love a treat as much as humans do.
Grays Cup Winner enjoying some chicken nuggets and a burger. Well deserved after the set backs he's had , Silver salver final next week for the boy! pic.twitter.com/Z77Z4PIGyB

— Nathan Hunt (@NHunt67) July 12, 2020
"They're on such a strict diet all week and all of their racing life eating high protein biscuits and a LOT of oily fish, so after they run so well there is no harm in giving a little reward. Plus it was a week until the final and they are so lean and fit that it won't make an impact at all.
"I'll be there on my own in an empty stadium due to social distancing guidelines, so it will be strange if we win and I'll be on the podium with no one else there. It's just a shame that the owners can't be there to see their prized dogs run on the biggest stage."
Follow @NHunt67