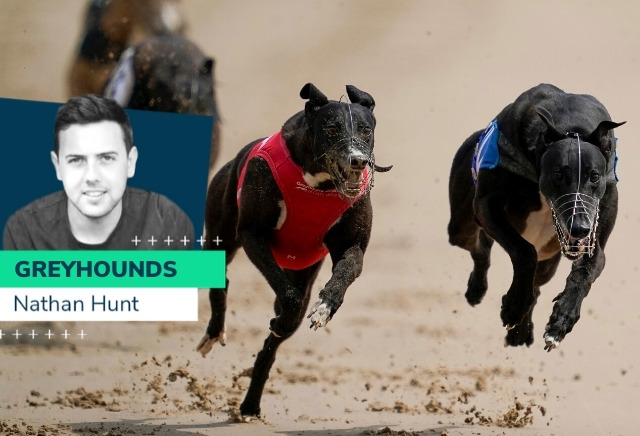 Leading greyhound trainer Nathan Hunt talks through his typical day, and looks ahead to the chances of his runner in the Sussex Cup.
Nathan Hunt is one of Britain's youngest greyhound trainers at just 26 years old. In the second exclusive weekly column for Oddschecker, the Cambridge-based handler reveals his day-to-day regime and looks ahead to the chances of the exciting Winetavern Curly in the Coral Sussex Cup semi-final at Hove on Saturday evening.
A day in the life...
"I've broken down for you what a normal day looks like for me as a greyhound trainer. This is what happens possibly at the beginning of the week as we build-up to some of the most high-class action at the weekend:
7.00am: I wake-up at this time and have my own breakfast and start to look ahead to beginning the kennel work.
7.30am: We all start work at this time in the morning. We will have at least three full-time members of staff working per day. All of the dogs are in pairs and will go into feed stations to have their breakfast which is milk and a special dog cereal.
7.45am: The dogs then go into a larger paddock and have some time for themselves. Whilst this is happening, me and the team are cleaning the kennels. They are elite canine athletes so we take great care in giving them the best possible treatment. This means cleaning their beds, fresh water, disinfecting their kennels and just making sure the kennels are clean and dry for them. By the time these jobs are done, the dogs are usually standing by the gate waiting to come back in.
8.30am - 9.30am: We then weigh the dogs. They get weighed every day which we record. We've got a sheet with all the dogs on there. This highlights their ideal weights, their last race weight. After this they return to their kennels, but there are plenty of dogs to get through so this can take us through to 9.30, even 10.00 in the morning.
10am - 10.30am: We have plenty of walking machines and treadmills so they will go on there. After we weigh them, they usually go on here if they are not racing and will go on there for 20 minutes a day and we record all of that. After they go on the treadmill, we let them back out into the paddock for a few minutes and they then go back into the kennel.
Not sure who's walking who here pic.twitter.com/IdjdpjyRcy

— Nathan Hunt (@NHunt67) June 19, 2020
10.30am - 11am: The dogs go back into the paddock for another break and to relax having been on the treadmill. At the same time as this, we will have one or two people who start to groom the dogs for the next day's runners which keeps us all occupied. When we groom the dogs, we also massage the dogs at this time with muscle rubs. Any dogs who particularly need treatment like injuries, we will treat them as well with icing and stuff like that. We've also got a man called Ron Mills who specialises in canine physiotherapy, so he will come in every Tuesday and I will make a list of dogs that I think need looking at in terms of injury and rehabilitation.
11am – 12pm: We've got a 300-yard sawdust shavings gallop and some of the dogs will do a bit of work on this during the day before we feed to keep them in shape. If they're racing every week they rarely go on it. Some dogs prefer to have a gallop, some don't; it's all about knowing what they like. They are very fit and some dogs just prefer to have their run during the week instead of using the gallop. It all very much depends on the dogs.
12pm - 1pm: We'll have plenty of things to do around this time. This ranges from cutting up meat for the pups, washing all of the beds and then we are also doing the feeds. I make up the feeds all at once. I've got 70 race dogs, so it's plenty of food to make up! I place all of those in the kitchen in their kennel order. We have three separate blocks so one person will do their own block and they feed their own block at around 12pm.
2pm – 5pm: This is one of the more quiet periods of the day., but I spend time maintaining paddocks and cutting grass as it very important to keep the exercise areas in top condition. The dogs have been fed their lunch and me or one of the team might be off racing with some of our other dogs.
6pm – 8pm: We then let the dogs out for the last time at around this time of night. This happens a bit earlier in the winter because of the weather, but at this time of year, they love being out in the sun at the moment and they will do this for a couple of hours.
8.30pm: The end of the day and we're ready to do it all again tomorrow!
If the dogs are racing, their schedule is slightly different:
7.30am: If one of my dogs is racing early, they might have to be in the van going to the races at 7.30am in the morning. If that is the case, they just go out into the paddock, we weigh them before they leave and then they will go straight on the van. They don't have breakfast as they need to be lean and essentially not full from eating food before they race.
11.30am: If one of my dogs is racing in the afternoon or evening, then they will enjoy this routine and still have breakfast and be weighed. Before they go out on the van, you let them out first just so they are fully fit and empty to do themselves justice.
I've got a live chance in the Sussex Cup semi-final on Saturday
WINETAVERN CURLY (40-1 to win the Cup) runs in the first heat of the Coral Sussex Cup (6.58pm). He ran really well in the first round when winning by three and three-quarter lengths from trap six. He is very draw dependent and is desperate for trap six.
Winetavern Curly in great form today (I haven't told him he's got trap 5 in his Semi-Final Saturday) @HoveGreyhounds pic.twitter.com/4GWuDTDqbD

— Nathan Hunt (@NHunt67) July 20, 2020
He's been drawn in trap five in the semi-final. However, the dogs in trap four (Forest Alan) and trap six (Da Honey Man) are slow away. If he can just trap reasonably well, he might be able to lead the dogs on the inside of him which will give him a chance.
It is probably the hardest semi-final on paper with the dogs inside looking pretty good. Bockos Doomie in trap two is unbeaten in his last two starts and looked good last week. If there is some crowding on the inside and Winetavern Curly can break well, he is in with a live chance. He did the best split of the first round last week.
First runners in a Cat 1 tonight and Curly shows what he can do when he gets the stripes!! https://t.co/BWcSkvITGV

— Nathan Hunt (@NHunt67) July 18, 2020
In terms of him this Saturday, he will have breakfast and will then only have a very small feed just so he has something. We'll leave around 2pm to get there for 4pm which is when the kennelling time is. They are then in the kennel for a couple of hours before the race – we're looking forward to it."