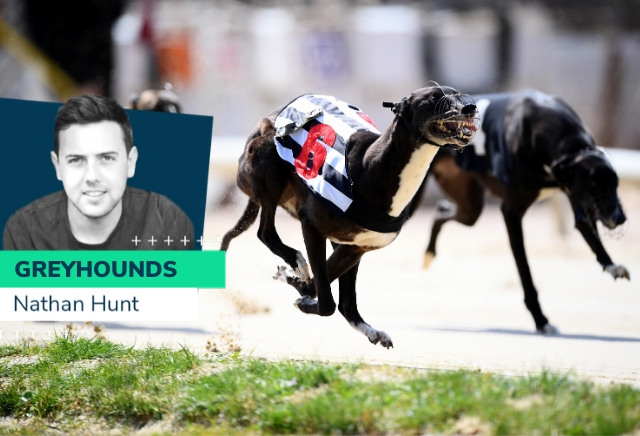 In our next feature with Nathan Hunt, we asked about the process behind breeding a dog all the way up to their first race.
How do you decide to breed a litter of puppies?
"It starts off with deciding the brood bitch that you want to breed from. The brood bitch does not always have to be that good on the track necessarily. It is more looking at the family members and looking to see if they are pretty good, particularly the mother's bloodlines which are most important.
"You will look at other litters the mother has had and then you just really want them to be quite professional. You want the mother to have a good temperament and you need them to do everything as right as possible.
"You're looking at trying to get everything as spot on as possible when you pick which brood bitch you want to use.
"With the stud dog [sire], you just go on what you think will be the best match for the bitch really. If you've got a bitch who doesn't stay the distance so well then you want to get a bit of stamina from the sire's pedigree or vice-versa.
"Stud prices vary. It depends if you are using a dog who is pretty unproven and then the prices start from £200 or £250. Then the more proven stud dogs who have a solid record at stud, they could charge £1500 to £2000 easily.
"In terms of how many pups you get in a litter, it varies. We have a litter of four born last week then the previous two litters which are six months and four months old, we had eight and nine pups. Usually, there are not many more than 10 but the usual number is between four and 10.
What are the early stages of a pup's life like?
"They will be in a joint kennel which has a small paddock alongside it. They move out of that kennelling after about eight weeks into a bigger paddock where they have their own space to do their own thing.
"We have got access to fields next to our kennels. So we would take the mother out on a lead with the pups when they are young to get them used to going outside. They love exploring and playing and as they get older and know their own way around they go out as a pack together and have a good roam around. They do that daily, so they have a lot of exercise and plenty of freedom. I think freedom is one of the most important things when rearing the pups. They are able to stretch out, so they know how to gallop and properly stride out when they are young. I think if you keep them in an enclosed space, they are never going to reach their full potential.

"When they are pups, they do the running and exercise for enjoyment really. They do that until they are about eight or nine months old and do that every day. They are off the lead so they can run about as much as they want.
"Once they reach that age, they can end up getting to the point where they can be too fast, so we are lucky really as we have large paddocks at our kennels. They are still in a paddock where they have been brought up in, but every day we then bring them over to a larger paddock where they have a good run around.
When do they start gearing up towards preparing for racing life?
"Usually, when they are about 12 months old, we start bringing them into the kennels and split the litter up. If we have eight pups say, we would then kennel them in pairs. They still go out in the large paddock together and enjoy playing and exercising as a group.
"From then, we start giving them lead training, which is essentially getting them used to going out for walks on a lead. We also have walking machines at the kennels which helps build up their muscles.
"Usually when they are about 14 months, we start doing their schooling. We have our own gallop and they go behind a drag lure, which is essentially a mechanical lure which has an old rag at the end of it wearing a hi-vis jacket and they chase after that.
"The paddock they go in when they are eight months old is next to the gallop, so they end up watching our race dogs go up there. This means when they go up the gallop for the first time they know what is going on and what they are up there to do. They have already learned what it is all about.

"You take the mother or another dog round the gallop behind the lure which the young pups can watch and then they have their turn.
"Once we know they are chasing the lure essentially every time they go on the gallop, we have traps at our base and we will have the front and the back of the trap open. They will be on a lead and we will just walk them through the process of being in the traps to get them comfortable with it.
"You might then leave the back door open and close the front of the trap. Then you will open the front of the trap as the lure goes on beside it. Then, when the lure goes past, you gently just push them through so they know that is when they are going to come out.
"You work your way up from then, shutting the back door and usually after a couple of weeks, they soon know what it is all about.
What are the final stages like before they run for the first time?
"After 15 months, we take them to the schooling track. We only go every other week with them as their bones aren't developed fully at that age so we don't want to do too much with them so we want to take it easy.
"Once they've been in the traps and they are happy with how they are going; they might need to go into the traps a couple of times or more than that, depending on how forward they are.
"After that, they will do a trial on their own at Romford. That will probably be over four bends on their own. The next step is then a mixed trial, a trial with other dogs which will usually be their brothers and sisters as they are trialling at the same time. They will then have a three dog trial which is a big step really as that is a big step without their brothers and sisters.
"Their first actual race is probably when they are 17 months old."
Nathan's two to follow this week
"I've got a bitch running called Roxholme Irene who only had her first run for me last week at Romford. She is in a bitches' final. She went well and is a nice bitch for the future.
"Monday, we've got the British Bred Oaks starting at Doncaster. We've got a few going, but Bang On Annie would be my best chance. She ran really at Hove winning the bitches' final. She should have a good chance going there."