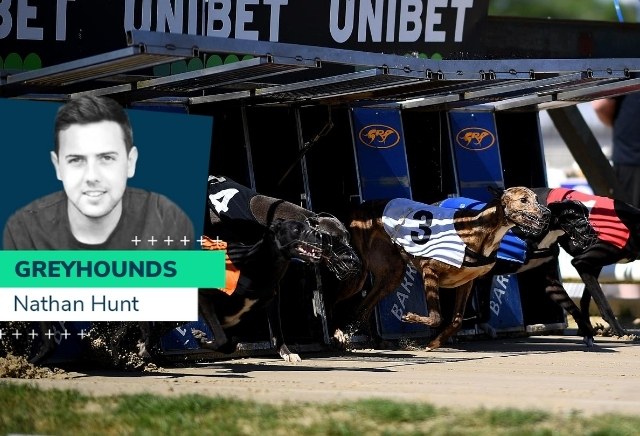 Leading greyhound trainer Nathan Hunt discusses last weekend's Puppy Cup and looks ahead to his chances this week.
Leading greyhound trainer Nathan Hunt is one of the brightest talents in the game and writes exclusively for Oddschecker every week. In this week's column, he discusses the performance of Our Boy Seamus in the Coral Romford Puppy Cup competition, his chances of returning to winning ways and his thoughts on Roxholme Irene who runs in the Guys And Dolls semi-finals at the track on Friday.
We would have loved to make the final, but we're not too disappointed
Our Boy Seamus broke well in his Puppy Cup semi-final and posted his best split to date. The dog drawn in trap one just managed to get to the bend ahead of him. He got to the rail and that was it really.
He missed out on second as the dog drawn in trap two is a strong finisher. However, Seamus ran well, but he is a dog who just needs to dominate early. It's just puppy racing and the two dogs that beat him are just very good dogs who are improving. Four or five weeks ago, I didn't think I had a dog capable of winning the Puppy Cup, so we're delighted with how he has progressed. We would have loved to make the final, but we're not too disappointed.
He ran well enough in defeat, but is out again in a puppy race on Friday (6.58pm), so we are hopeful he can bounce back. It looks a decent puppy race, but if he can come away, hopefully he can make the bend and if he does, we are expecting a big run.
As for the final, I thought one of the dogs who beat Seamus, Lightfoot Ripley and Tenpin would be the favourites. However, they seem to be quite big prices in the betting which is surprising.
Lightfoot Ripley broke well from trap one last week and then moved off to the middle so I think he has quite a good chance from a draw that is going to suit.
Roxholme Irene runs in the Dolls final as she looks to qualify for the Guys And Dolls final next week
Roxholme Irene ran well last week. She was probably too keen last week and was a bit over-excited. She came out and moved right a bit, but she is a strong bitch over 400m. We just need her to break on Friday for her to have a strong chance of qualifying for the final between the guys and dolls next week. As long as she can get a clean break, I am hoping she will finish in the top three which she needs to do to make the final next week. Holdem Lauren could be the one to beat, but she isn't well drawn.
We have four runners at Romford on Friday night, but Our Boy Seamus looks to be our best chance of a winner
Grays Cup Winner (6:09pm: Romford) is back and I'm very happy with him. He made a final at Central Park and then I planned on running him at Romford a few weeks ago, but he wasn't very well. I've brought him back now and it will be his first 400m for a while. He will therefore need the run, but we are hopeful that he can break well. He is fit enough and we're hopeful of a good run from him.
Teaboy Russett (6:28pm) is badly drawn and is desperate for trap one so that is not ideal. Therefore, Our Boy Seamus looks our best chance of the night.