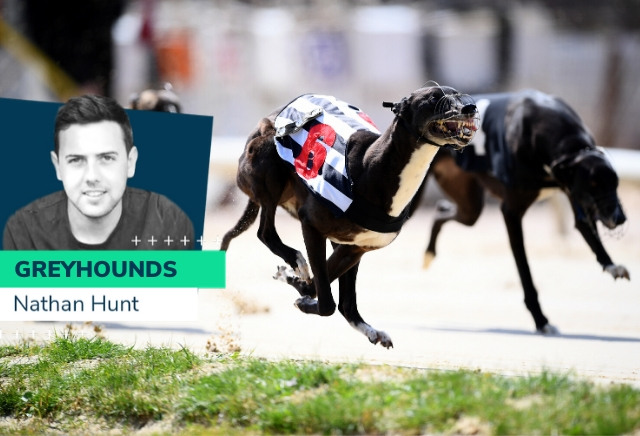 Leading greyhound trainer Nathan Hunt has his first runner in a Category 1 final this weekend, and looks ahead to the Derby.
Leading greyhound trainer Nathan Hunt is one of the brightest talents in the game and writes exclusively for Oddschecker every week. In this week's column, he offers his thoughts on Roxholme Irene who runs in the Guys And Dolls final at Romford on Friday, his best bet of the night at the track and also looks ahead to Ballyard Ricki, one of his leading hopes for the Greyhound Derby, which gets underway on October 2.
This is my first runner in a Category 1 final – I'm looking forward to it
Roxholme Irene has done really well to make the final of the Guys And Dolls and I couldn't be happier with her going into the race.
She is my first runner in a category 1 final so we are really looking forward to it. She is the outsider, so there is no pressure but it is still great to have a runner in the final.
She has finished second to the competition's favourite Holdem Lauren in both of her heats and she closed the gap on her last week when only beaten by a length and a quarter. Roxholme Irene showed good early pace on that occasion and she is going to need to break smartly again to have any chance in the final. I'm glad she is drawn in the middle in trap three and if she can get away, hopefully she can run well.
There are some decent dogs on her outside and so I am glad she is drawn on the inside of them. The Guys And Dolls has been a really good competition, particularly on the bitch side and Holdem Lauren looks a worthy favourite, particularly given her draw in trap one. Adamant Taurus is also a dog to watch in trap five as he has taken to Romford really well.
I have four other runners at Romford on Friday – Grays Cup Winner is my best chance
6:09: Romford: Grays Cup Winner (Trap Four) and Congress Boats (Trap Five)
Grays Cup Winner ran really well in a race over 400m last week showing good early pace before just tiring to finish third. Back down to a sprinting trip of 225m, he is well-drawn and I think my best chance of the night.
Congress Boats could be a very nice dog for Friday nights at Romford. He won nicely last time out and would also have a good chance.
6:58: Romford: Teaboy Russet (Trap Three)
He needs to improve having been slightly disappointing of late. In particular, he has been slow away, but hopefully he can refind his best form.
7:18: Romford: Our Boy Seamus (Trap Five)
Things didn't work out for him last week where he met plenty of trouble in running. He is still an exciting prospect, but I'm slightly worried about his draw on Friday.
Ballyard Ricki on course for the Greyhound Derby
I was delighted with him on Monday as he won a trial for the Greyhound Derby really impressively. He showed good early pace and stayed on strongly to score. It looked a very strong heat as he beats the likes of King Dylan and I am really excited about his chances in the competition. Entries close on Friday and the draw for the opening round is on Saturday. We are really looking forward to getting him started in the competition on either October 2 or October 3. He probably won't run again before that.
Delighted with Ballyard Ricki's run in this evenings derby trial stake. Showing a lovely burst of pace to lead a good field. Hopefully more to come with further track experience and we look forward to the derby with him Nice to hear the OiOi's from the stands again! pic.twitter.com/6tM11Z7tm0

— Nathan Hunt (@NHunt67) September 21, 2020
We have six runners in the British Bred Scurry Cup competition which begins next week
There is another big competition on the horizon next week as the Scurry Cup gets underway. We could have five or six runners in the event and I think two of my best chances could be Bang On Annie who is really consistent and Aero Rackitup.
The show goes on despite the threat of lockdown
Boris Johnson's announcement on Tuesday does not really change much for us. I think Romford are still going to have small crowds of owners and facemasks must be worn in the restaurant. However, we just need to ensure we can keep racing as another lockdown would be disastrous for the industry.