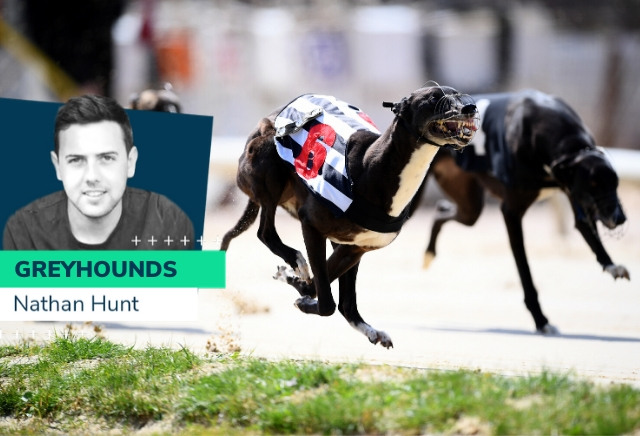 Leading greyhound trainer Nathan Hunt looks ahead to the weekend's Greyhound Derby semi-finals.
20:36 Nottingham - Saturday
Nathan Hunt is one of the leading greyhound trainers in the country. In his latest column, which is published weekly on the Oddschecker website and social media channels, Nathan looks ahead to the semi-finals of the English Greyhound Derby at Nottingham on Saturday and offers his thoughts on who will come out on top.
It was great to have the Oddschecker cameras at the kennels earlier this week
I love penning this weekly column for Oddschecker and I was delighted to meet the team who do such a brilliant job behind-the-scenes when they came to visit the kennel earlier this week. The guys are producing a fantastic A Day In The Life style piece which will bring to life my daily routine, hopes for the future and a look at some of our most exciting prospects. Make sure to keep an eye out on the Oddschecker social media channels for the piece which is set to be published very soon.
Knocknaboul Syd and Deerjet Sydney the ones to beat in the English Greyhound Derby semi-finals
The semi-finals of the English Greyhound Derby are the highlight of a fantastic card at Nottingham on Saturday night. Both semi-finals are stacked full of quality and I've offered my thoughts below on who I think will win both heats.
First Semi-Final 8.36pm – Selection: Knocknaboul Syd
I think Knocknaboul Syd will probably break smartly from trap four again and cut across the field. You would expect him to lead the field at the first bend. I don't think Southwood Jet will break as well as one. He will be looking at trying to pace up and follow Knocknaboul Syd round the bend. I don't think Ballydoyle Valor and Deanridge Rapid will show enough early pace. I think it is a straight contest between Knocknaboul Syd and Southwood Jet and the pair should qualify.
Knocknaboul Syd has been pretty fantastic out of the boxes in the previous heats – he has been foot-perfect. I expect him to come out on top.
20:52 Nottingham - Saturday
Second Semi-Final 8.52pm – Selection: Deerjet Sydney
I thought Wolfe ran really well last week from trap five. It wasn't ideal that week, but this time around he has a terrible draw. Deerjet Sydney is drawn on his outside and that dog is going to dive across straight in front of him really. You will probably be hoping that Wolfe misses the break slightly and lets Deerjet Sydney go on and then follow him around.
However, I think Deerjet Sydney will just have too many gears for Wolfe and can take the semi-final.