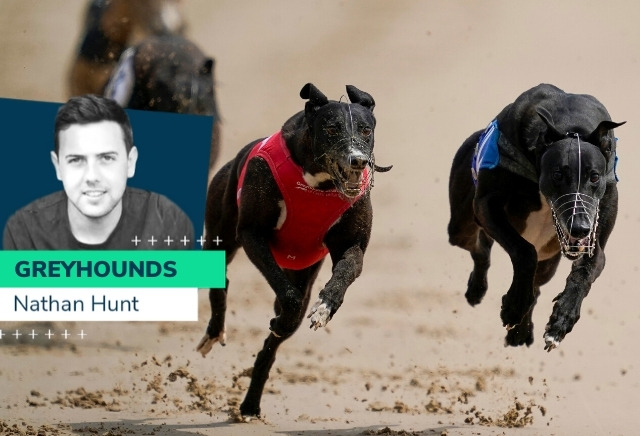 Leading greyhound trainer Nathan Hunt talks through his chances at Romford this Friday and looks ahead to the British Bred Sprint Competition.
Nathan Hunt is one of the leading greyhound trainers in the country. In his latest column, which is published weekly on the Oddschecker website and social media channels, Nathan has three dogs with live chances at Romford on Friday and also looks ahead to Ive Got Gears' participation in the British Bred Sprint Competition which gets underway at Nottingham on Monday.
We have three runners at Romford on Friday, including Paradise Prince
18:28 Romford
6:28pm: Romford: Jonno You Go (Trap Two)
I like this dog. Jonno You Go had been off the track for a while, but he went very nicely in a trial last week. He posted a good time on that occasion, showing good early pace and scoring by two and a quarter-lengths. That run will have put him spot on for this assignment and I'm hopeful of a good run. The main concern is his draw in trap two. The dog drawn inside of him (Ardera Nidge) may not be a rails runner and I would have preferred to have been drawn on the inside. However, we're still hopeful of a big effort and I think he will be a nice dog for 480m races in time.
19:18 Romford
7:18: Romford: Kooga Keira (Trap Four)
This is going to be Kooga Keira's first run for me. He was previously trained by Richard Devenish and was sixth in the St Leger Trial earlier this week when meeting a troubled passage in running. My main concern with him is his trapping. Looking at his last few races he has been slow away and he could easily lose the race in the boxes. However, he has previous form at Romford and has plenty of ability as his back catalogue shows. I'm looking forward to getting him started for us.
21:12 Romford
9:12: Romford: Paradise Prince (Trap Six)
He is probably our best chance of the night. Paradise Prince runs in the Coral Essex Vase Trial Stakes, but needs to improve on his recent trapping. He posted a really good trial time at Romford last month and I was delighted with that effort. However, he was slow away on his latest run and that is probably the only concern for me. If he comes away level, then he will hopefully play a leading role, but he has been slow away on his last two starts. He remains a dog with plenty of potential and hopefully he can put his best foot forward.