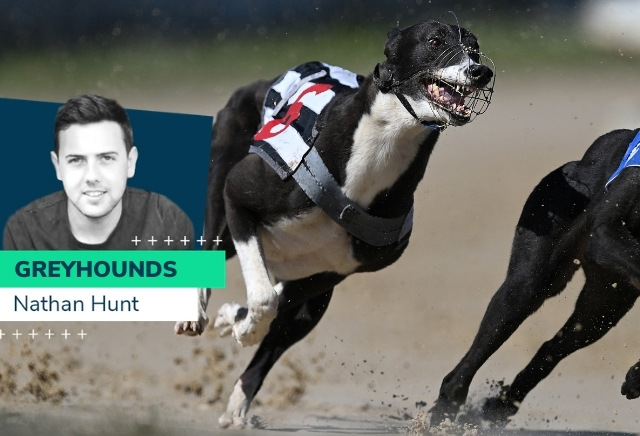 Leading greyhound trainer Nathan Hunt looks ahead to Aero Rackitup's participation in the BGBF British Bred Midlands Sprint Trophy Final
Nathan Hunt is one of the leading greyhound trainers in the country. In his latest column, which is published weekly on the Oddschecker website and social media channels, he looks ahead to Aero Rackitup's participation BGBF British Bred Midlands Sprint Trophy Final at Nottingham on Monday and his two runners at Romford on Friday.
We're looking forward to having another finalist in a big competition with Aero Rackitup
Aero Rackitup won his heat in the BGBF British Bred Midlands Sprint Trophy and now lines up in the £1,500 final at the track at 8.52pm on Monday Night. He had won an A1 at Romford on his penultimate start and then showed a great attitude at Nottingham. He trapped out well and he had won at the track over a longer trip so it really seemed to suit him dropping down in distance.
I was really pleased with the run and whilst he only won by a short-head in the end, King Drake never went past him and I think his stamina and ability to stay a longer trip could be important in the final.
He also eased into the bend on that occasion and I think he will hopefully attack the turn more in the final. He's drawn in trap three once again in the final which I think is a perfect draw as he is a rails to middle runner. If he can break well, I think he has every chance and we're really hopeful that he can run well.
Full credit must go to the BGBF for coming up with this competition which takes place on the same night as the BGBF British Breeders Stakes, whilst SIS have also done a great job of putting money into the sport so a big thanks to them for their continued support.
We're hopeful about Aero Rackitup's chances in the final. He does need another good break from the boxes, but he does see the trip out very well and we're looking forward to it.
We have two runners at Romford on Friday including the prolific Ive Got Gears
Paradise Prince (18.43 - Romford)
He is probably the most frustrating dog I train. He has bundles of ability, but can just be slow away from the boxes. He shaped quite nicely when third last time out and he should be suited by being drawn in trap five. If he can break well there is no doubt he has the ability, but he is in a good heat and needs to improve on his recent starts from the boxes.
Ive Got Gears (21:28 - Romford)
Ive Got Gears (9.28pm, Romford, Friday) – She has been a real star for us. She recently ran in the same competition as Aero Rackitup and was a tad unlucky. She wasn't ideally drawn in trap five and I think she would have been more suited to being drawn in trap four. However, she remains a bitch in form and whilst she takes on the classy Geelo Gold Dust on Friday, we're hopeful of another good performance.
I'm also set to run Grays Cup Winner in the National Sprint at Nottingham on Monday. He trialled a couple of weeks ago and I've kept him fresh since. He's in good form and hopefully he can give us some more to cheer about on Monday.
Two puppies to watch out for
We've got plenty of exciting young dogs at home & I'm really pleased in particular with the progress of two young pups. Ballinakill Echo is a daughter of Droopys Jet and she came over from Clonmel where she won eight lengths. She is a daughter of Droopys Jet and I've been delighted with her progress at home. She is out of a dam (Rushmoorbeatrice) who produced the high-class dog Gonzo so she is one to look forward to.
Another puppy to watch out for in the months to come is Brightside Nick. He is a son of Droopys Sydney who is a sire I really like. I really ran him a trial over a sprint distance and I was delighted with what he did. It was a three dog and he broke slowly from the traps and was third at the first bend. However, he showed electric pace to eventually take the lead and win the trial. It was a really encouraging trial and hopefully he is one to look forward to.