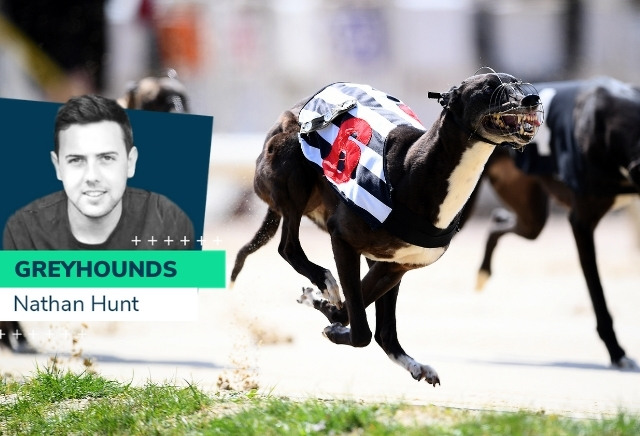 Leading greyhound trainer Nathan Hunt discusses some positive news off the track as well as a look at his weekend runners.
Nathan has six runners at Romford this Friday night who all have a good chance.
He also assesses the first major final of the year Coral Essex Vase Final.
Leading greyhound trainer Nathan Hunt discusses his weekend hopes and looks ahead to the Essex Vase Final.
Nathan Hunt Column January 20
Nathan Hunt is one of the leading greyhound trainers in the country. In his latest column, which is published weekly on the Oddschecker website and social media channels, Nathan discusses his four runners at Romford on Friday & also outlines his targets for 2021.
We have six runners at Romford on Friday who all have a chance of winning
Things didn't really go right for us last week where a number of our runners had trouble in running. However, I'm happy with the form of the kennel in general and hopefully we can have a change of luck at Romford on Friday evening where I think we have six dogs all with chances of getting on the scoresheet.
6:09: Romford: Millgan Leahpeah (Trap One) and Quivers Rocco (Trap Two)
Millgan Leahpeah can be quite slow away, but she has a decent draw and hopefully she can return to form. Both of my dogs are drawn well on the rail so I would be hopeful that one of them could get to the bend in front.
Quivers Rocco looks a nice pup. He fluffed his lines last time when fourth at the track. He had previously won really stylishly on his debut for me at the track at the beginning of the year. Last time was his first run under lights and it can be expected that dogs sometimes need one run to acclimatise to running at night. However, he is a really nice pup and I would be hopeful of a good performance – he is one to keep an eye on.
6:43: Romford: Aero Rackitup (Trap Two) and Grays Cup Winner (Trap Five)
Nothing went right for Aero Rackitup. The winner Droopys Mac just flew out and was not for catching, He reappears tonight, but if we can break better then hopefully we can reverse the form. We know what a classy dog Aero Rackitup is and it was just one of those nights where he got no luck. I'm pleased that Aero Rackitup is drawn on the inside of Droopys Mac this week and that could be very important. If he breaks well, he has a good chance.
I thought Grays Cup Winner was a good second in the same race. He showed good early, before taking a slight bump. However, that was a good effort and he is also should go very close in this event. Aero Rackitup could even hold up Droopys Mac and that could leave the door open for Grays Cup Winner, so I think they both have good chances in this race.
6:58: Romford: Bang On Sophie (Trap Two)
She ran on Tuesday and was a good second in an A1 at Romford. However, she is just not getting enough runs at the moment and I think she is going to be a decent bitch. I think once she runs a bit more, you will see what a classy bitch she is.
7:36: Romford: Droopys Flight (Trap Five)
In his trials, Droopys Flight had been cutting across to the bend. I therefore seeded him rails last week just to see whether he wanted to be drawn on the inside, but things didn't go to plan as he met trouble with another dog. I changed things this week and seeded him in the middle boxes. I think if he can clear the four Keefil Grace, then I think he has a good chance. He looked a lot stronger last week and stayed on well. He just needs to start getting it right at the boxes, but he looks to have a good chance in this. It's just very important that he breaks well as that has been missing from his performances of late. I think he has a lot of potential and he is far from the finished article.
The Coral Essex Vase final looks fantastic on the same card and I fancy Antigua Rum to deliver the goods
It's the first major final of the new year on Friday and the £10,000 Coral Essex Vase final looks a fantastic race on paper. Sparta Master (best price 7-4) has looked very smart in the competition so far, but it just depends on whether he can get his own way in front early on like he has done. I think there are plenty of rivals who have pace in the race including Seaglass Tiger (best price 20-1) who could stop Sparta Master getting a run.
Droopys Aoife (best price 3-1) is a top-class bitch and I think she has a good chance from her draw in trap one. However, I think Antigua Rum (best price 7-2) as got the best draw in trap six. He has just improved considerably through the competition since coming back from injury. He finishes well and I think if there is a bit of crowding then it could set the race up for him.
Monmore Puppy Derby on the horizon
I am trialling a few dogs at Monmore tomorrow. That is our first trial and hopefully we will have a couple of puppies who can go for the Puppy Derby there when that competition kicks off next month.
Antigua Rum - 1pt @ 7/2