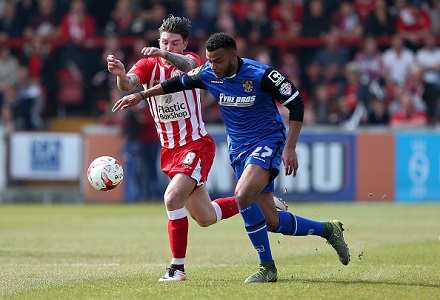 Mike Holden has been in sensational form the last couple of days, nailing two correct scores!
Wimbledon v Accrington - Saturday 19:30, Sky Sports 1
Predictably, talk around Kingsmeadow ahead of this first-leg encounter has been about taking advantage. Accrington, who missed out on automatic promotion to Bristol Rovers in the dying moments last Saturday, are being cast as victims, with AFC Wimbledon buoyed by the prospect of coming up against a team they expect to be emotionally fragile.
"It's massively difficult," says veteran Dons midfielder Dannie Bulman, putting himself in their shoes for the benefit of his colleagues. "It's a kick in the balls because you've played 46 games and you can see the finish line, then all of a sudden someone puts another 100 yards on it. It's like 'Oh, for God's sake'. It's almost like running in syrup."
Nice though it is of Bulman to contextualise Stanley's position in such a graphic way, he might actually be barking up the wrong tree. On ten previous occasions that a team has entered the final game occupying an automatic spot only to miss out, they've reached the final of the play-offs every time, seven times clinching promotion at the Millennium Stadium or Wembley.
Rather than potentially lulling his own players into a false sense of security, Bulman might have been better off preaching caution, warning his team-mates about the dangers of facing a wounded animal that suddenly realises they have a second chance. When you've allowed promotion to slip through your fingers once, are you going to let it happen twice?
In this scenario, there's usually no pressure, just cold-eyed determination. That might be slightly counterintuitive but nobody needs to tell Stanley they are the best of this quartet, they already know it. It's not just the league table that tells them, it's John Coleman every week. For them, the question is whether they establish superiority here, or in the return leg at home.
In a remarkably gracious interview following last weekend's 0-0 draw with Stevenage, Coleman congratulated Michael Appleton and Darrell Clarke, wishing them an enjoyable night of celebrations, and the closest he came to an excuse for Stanley coming up short was an observation about the pitch being too bumpy and not really ideal for the type of football his team like to play.
Coincidentally, that's also been a frequent refrain from Neal Ardley in recent months. His Wimbledon side also like to get the ball down and knock it around but the ropey Kindsmeadow surface means they haven't always done themselves justice in front of their own fans, despite an impressive charge towards the top seven since Christmas.
When these two sides met on this ground two months ago, they played out a 0-0 draw and a similarly low-scoring encounter could on the cards here. Accrington were the better side that day and only an unexpected referee's whistle prevented them from taking the lead, Trevor Kettle blowing for half time just as Billy Kee hit the back of the net.
Meanwhile, if you combine the respective home and away records of these two sides against the top seven, you get a sample of 13 matches that have prodcued a grand total of 14 goals. On that basis, take the 9/4 available on under 1.5 goals and express a slight leaning towards the visitors with a correct score bet on Accrington to win 1-0 at 17/2.
Click here for more information about Mike Holden's shot-based ratings system
Under 1.5 goals - 1pt @ 9/4
Accrington to win 1-0 - 1pt @ 17/2