Featured Royal Ascot Racing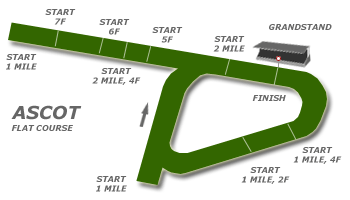 Ascot race tracks Next
The Ascot racecourse boasts a triangular right-handed track of a galloping nature, with easy turns. The round course is just under 1 3/4 miles in length, with the lowest part of the track at Swinley Bottom, where the old mile course joins. The uphill climb is slight but consistent until the winning post, with a home straight around three furlongs long. The straight mile course is downhill to start, but is largely on a steady rising gradient and rates as a stiff test.

The effects of the draw on the straight course have varied since the track was relaid for the return of racing in 2006. Much can depend on ground conditions but the only conclusion to make is that being drawn in the middle remains a negative. On the round course it is better to be drawn low, as it is easier to drop in and avoid covering ground on the turns.

National Hunt racing takes place on the same course and also lets horses gallop at will. The fences are stiff, and front-runners are often hard to peg back if they can get into a rhythm. Should the ground turn soft it usually turns into a severe test.