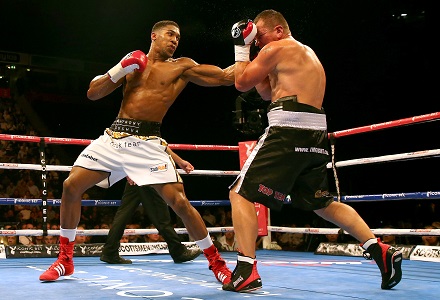 Anthony Joshua v Dillian Whyte - Saturday 23:00, Sky Sports 1
The mantle of 'next big thing' can be onerous on any sportsman, more so a Brit in the land of the big men where success has previously been thin on the canvass. But Anthony Joshua has shoulders broad enough to carry the title as well as a waist built for belts. This weekend he moves further up the mountain to where Tyson Fury now basks, polishing the belts Joshua so desires.
Joshua is already loftily ranked by most of the organizations so theoretically a fight with Fury could happen anytime but given AJ faces Dillian Whyte on Saturday for the Vacant British Title won by Fury four years ago, that mouthwatering prospect is on ice for at least a year or so. Of course Joshua has to deal with Whyte first in a mini-grudge match that appears his biggest test to date.
The pair met six years ago as amateurs when Joshua was young and raw and knocked down before losing on points. AJ has improved quickly and is unbeaten in 14 since turning pro two years ago. All 14 opponents have been dispatched within the first three rounds including the normally rugged Denis Bakhtov and the previously unstoppable Kevin Johnson. Timing and age has played a part in such results but Johnson had gone the distance with both Fury and Chisora.
Whyte meanwhile still rankles at criticism from Joshua during his two-year ban from boxing for using a banned substance related to an energy drink. The irony won't be lost on those who recall Joshua narrowly avoided clink for possession of cannabis 'with intent to supply' in 2011. The enmity between the pair is real and an already explosive match-up is tinder ready for the spark.
Click here for all the best Anthony Joshua v Dillian Whyte odds
There won't be many fancying this fight to reach halfway given Joshua doesn't know what a fourth round is, while Whyte, with 13 KO's in 16 wins, has only been as far as the fourth on three occasions himself. But for the first time in his career to date, Joshua will face off against a man who believes in himself and is coming to win. More to the point, Whyte can box a bit and is much better than his 8/1 odds suggest.
The problem for Whyte is he's up against something of a freak; a heavyweight who is big, athletic and can punch destructively. Joshua also lives the life and he loves hurting opponents. It's a recipe that spells disaster for rivals and has casual fans salivating while promoter Eddie Hearn dances to Abba's "Money, money, money" behind closed doors.
Whyte will attempt to put Joshua on the back foot but his languid, loose style will present openings sooner rather than later. Joshua has 5 first round KO's with 7 more coming in the second and at around 5/4 for both, that is where many will place their faith. I wouldn't argue with that but in what has become an entertaining game of Joshua round roulette, there might be some value in the 9/4 for rounds 3 & 4 coupled. It will be fun however long it lasts.
Joshua to win in rounds 3-4 - 1pt @ 3.25
Most of the home fighters on the undercard are short prices to win and the results expected but there is interest in how Tony Bellew might get the job done against Masternak. Bellew has stopped four of five since moving up to Cruiser and has a shout of the KO at 15/8 (Hills) but I've seen Masternak from ringside a few times and though limited, he is tough. Even useful WBC champion Grigory Drozd took 11 rounds to overcome Masternak so Bellew to win by Decision/Technical Decision at 11/10 looks the more likely and the best bet on the bill.
Tony Bellew by DEC/TD - 1pt @ 11/10
Most interesting fight on the undercard is Eubank Jr against O'Sullivan in a much-anticipated match the Irishman has been bating for. This could be a cracker. Eubank remains a man of potential and sparring hype beyond real substance inside the ring (when was the last time he threw a jab?) but he's good and seemingly came of age in defeat to Saunders. 'Spike' O'Sullivan meanwhile has knocked out five of his last six opponents and is raring to fight.

'Spike' will come out throwing bombs and is not un-fancied for the upset at 5/1 (365) but he does make mistakes and Eubank should weather the early storm to find his range. If O'Sullivan starts fast this could combust with the under 5.5 Rounds at 11/8 (Skybet) making some appeal but concentrate on the total rounds markets with Over or Under 7.5 the play at Evs either way. My instinct is Spike makes this a war and it ends before halfway but I'm mindful Eubank hit Chudinov with everything for more than 11 rounds before finally getting him out of there so I'll take a chance on Over 7.5 at Evens. This fight might even upstage the big men at the top of the bill.
Total Rounds - Over 7.5 - 1pt @ 1/1