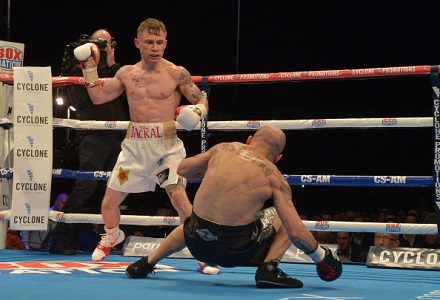 BoxNation's Alex Steedman fancies Carl Frampton to come out on top in Saturday's big fight.
We've been talking about Frampton v Quigg for years but finally this weekend it happens. The talking continues though with big personalities and even bigger egos on either side of this intriguing match.

This is not just Frampton against Quigg, it's also Barry McGuigan v Eddie Hearn, Shane McGuigan up against Joe Gallagher. None of these characters are scared of a microphone or shy of an opinion and while it's been amusing for most of the build up, I'll be happy when they exit stage left and leave it to the men who really matter.

And no mistake, this matters to both as the eminent fighters of their time at 122lbs. Quigg (6/4) has largely fought in Frampton's shadow during the years their names have been linked with his WBA title often derided when uber-talent Guillermo Rigondeaux carried the same belt. But the Bury man has battled through all of that, emerging as a bone fide operator at world class and a power-punching improver.

Quigg has registered nine KO's from his last 10 wins (13/5 KO/TKO/DQ) with 5 of those coming inside three rounds and he demolished Kiko Martinez in five minutes last July. Frampton went the distance with Martinez when winning his IBF belt on a bracing, Belfast autumn night in 2014 having sparked him impressively in nine rounds previously. Frampton (8/13) has stopped 14 of his 21 opponents (11/4 KO/TKO/DQ) so sparks could fly in this one (10/11 YES/NO DISTANCE).

There's no doubt both men have the power to hurt each other and I've seen Frampton put it on welterweights in the gym. The Belfast man was though disappointing in his last fight when dropped twice in the first round by an unheralded Mexican who has lost again since. It was a performance notable only for Frampton's tactical versatility and courage but one which must have had team Quigg salivating. My understanding is there were issues with the weight as well as perhaps complacency so it may pay to scratch that as a line of enquiry but is cutting weight now a problem for Frampton?

Certainly Quigg looks and sounds like he's in the form of his life with the confidant, relaxed manner in which he's appeared before the media one of the few surprises in the build up. A stuttering school failure, Quigg has blossomed on camera and beams like a man who knows something we-and Frampton- don't. If I were a non-boxing fan, eves-dropping on the PR, I'd say Quigg has won the phony war. But can he win the battle that matters most?

I've always maintained that Frampton wins. Two to three years ago I said Frampton walks through Quigg but I'd be less dogmatic about it now given all that's happened since. But Frampton simply has more ways to win and is all-round the better fighter.

I don't see Quigg out-boxing Frampton; he's always at his best when doing work up close. Remember the draw against Salinas in 2013 where Quigg was completely out-thought for five rounds before he closed the gap and sheer work rate clawed back a draw. The tactics that night were close to embarrassing and cannot be repeated but I think Quigg has been taunting Frampton in the hope it becomes a shoot-out, with Quigg the slightly bigger man and perhaps the harder hitter. Frampton may have given up perceived points in the build up but he's altogether familiar with the pressures of the big stage having carried the hopes and expectations of the Irish with him to the ring on so many of those bonkers, Belfast nights. Frampton knows what he has to do and probably how to do it.

How to play the fight is the question so if you are undecided, the 5/6 (Paddy Power) on either man to win by KO or 5/6 by Decision may well appeal. I won't be surprised if this one goes the distance and all week I've had a hunch I'm making the wrong call but I've always thought Frampton sparks Quigg so I'm sticking to my guns. Get ready for a shootout and with rival Leo Santa Cruz also in action this weekend and Rigondeaux boxing in Britain in a few weeks, the other hustlers at Super-Bantamweight are heading for Dodge.
Frampton to win by KO - 1pt @ 11/4