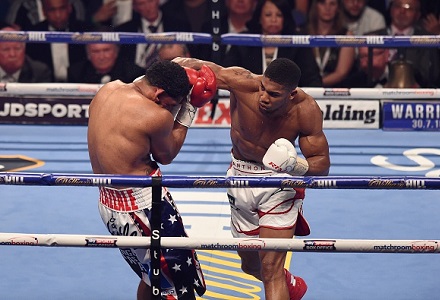 The prospect of two Brits holding a portion of the World Heavyweight crown at the same time may not be entirely unique but placing Tyson Fury and Anthony Joshua in the same sentence is tantalizing none-the-less.
For what it's worth, Herbie Hide briefly held the WBO belt when Lennox Lewis was king during the 90's but that match wouldn't have stirred the juices in the same way Fury v Joshua does. If AJ can overcome Charles Martin on Saturday then such talk will be very real.
Casual fans have been carried away in the hype of their own hyperbole for
Joshua
and on the face of it he's a ridiculous price (1/6 generally, 1/5 Ladbrokes) in his first attempt at a world title. But given the apparent limitations of the man in his way as well as the IBF landscape which means AJ probably won't face a meaningful test for at least 18 months if he wins, the timing couldn't be any better.
Which seems a far cry from the initial reaction to Joshua's dramatic, seven round win over Dillian Whyte last December. In a domestic spat that lived up to it's billing, Joshua was wobbled, went beyond three rounds for the first time before finishing the fight with a flash-bulb uppercut. There were calls for Joshua and his team to tread carefully towards the top after that but with
Charles Martin
winning the IBF belt (that really belongs to Fury) in January, suddenly a gap appeared on the heavyweight highway.
On paper,
Martin
(9/2 Skybet Stan James) has a decent, unbeaten record with 21 KO's in 23 wins and he seems full of confidence. Choosing Joshua as a first defence is either conviction of that or the shortest possible journey to cashing in his chips. Martin is nearly as tall as Joshua though with a slightly shorter reach and he's a southpaw too.
Click here for all the best Joshua v Martin prices
The truth is, we don't really know how good Martin is or indeed how much better he might get. The fight against Glazkov when he 'won' the title ended bizarrely with Glazkov injuring himself in the third round. What little we did see underlined that Martin is flat-footed, relatively slow and beatable.
The American may have boxed professionally for seven years and nine more fights than Joshua but he hasn't boxed at a higher level despite winning his title. Martin laboured over 10 rounds with Raphael Zumbano Love last February while AJ hammered the Brazilian inside two rounds just three months later as if to emphasize Martin's lack of footwork and speed.
Martin does seem to carry confidence as well as power in his left hand (6/1
KO/TKO
) so that remains a threat, more so because lack of head movement remains a potential Achilles heel for Joshua. But this looks Joshua's fight to win and the more I've had time to reflect, the more impressed I am by the way Joshua turned around his fight with Whyte. I've no doubt AJ got caught up in the moment, the animosity as well as the crowd and he fought the wrong fight. But he made adjustments and came on strong to win good-looking. That struggle may well be the making of him.
Predicting when the Joshua fireworks happen is boxing roulette but this really could end at any time (
KO/TKO
2/7 generally). With the occasion, it's easy to imagine a couple of rounds slipping by but that's not really the way Joshua fights and given how relatively slow and ponderous Martin looks, Joshua will get opportunities sooner rather than later.
It's worth remembering Deontay Wilder lost his 100% KO record when he beat Bermane Stiverne to win his WBC title but Martin doesn't look as good or defensively sound as Stiverne, so I'm convinced Joshua get this done inside the distance.
You can bet around 2/1
Joshua inside three rounds
with
rounds 4-6
available at 9/4 and my hunch is AJ shows initial respect for Martin before realizing he's there for the taking. The pick is Joshua to win between rounds 4-6 and twitter to meltdown in a wave of hype. Meanwhile in Cheshire, a cat called Fury smiles a creamy smile and offers a prayer to the Gods of war.
Joshua rounds 4-6 - 1pt @ 5/2