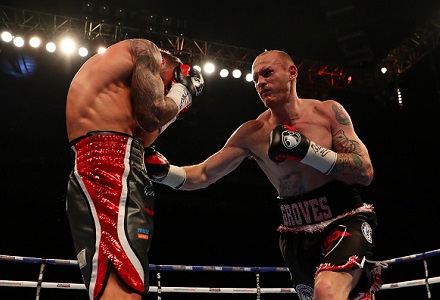 Saturday night on Sky Sports Box Office will be an explosive night of boxing with George Groves against Martin Murray at the O2 Arena one of the highlights of the evening's undercard. The Super Middleweight title elimination fight will be one of the closest contests of the night and may well end up going the distance, despite both boxer's best intentions.
The domestic fight is widely regarded as the most equal pairing of the evening, with both men holding similar records and there being no notable difference in physical capabilities. With Significant losses at the highest level of boxing for both fighters, this bout stands as one that neither can afford to lose but will either corner be able to assert dominance in such an equally matched contest?
Martin Murray will be looking to beat George Groves with the same tactics used by Carl Froch in 2014. His intention will be to knock Groves out in the latter half of the contest. With a slightly longer reach, Murray will look to hold off his opponent for six rounds conceding points in an attempt to sap groves of valuable energy that he may rely on later in the fight. Hoping to see a weary Groves in the 8th round, Murray will increase the tempo of his attacks hoping to end the fight early and stop the contest going to the judges for a points-based decision.
Get a £50 FREE BET when you open an account with NETBET
With George Groves some five years younger than his opponent and with the experience of fighting against Carl Froch twice, Murray may find it difficult to outwit the London-born boxer with such basic tactics. Groves is an intelligent fighter and will have used his preparation time wisely to ensure he has the stamina to go the distance this time round. Hoping to capitalise on early mistakes, Groves may take opportunities to attack Murray in the opening rounds but will be cautious not to over exert himself as we've seen in the past. Viewers may find the opening rounds of the contest less aggressive, with a more controlled style of boxing on display, especially from Groves. With George Groves fitter than ever and able to fight back against attacks from Murray in the closing stages of the bout, this is one fight that may well end up going the distance.
Despite George Groves' reputation for opening fights with powerful punches, I predict a new tactical style of boxing from Groves that will produce a 12-round fight that he
wins on points
.
Groves on points - 1pt @ 11/10