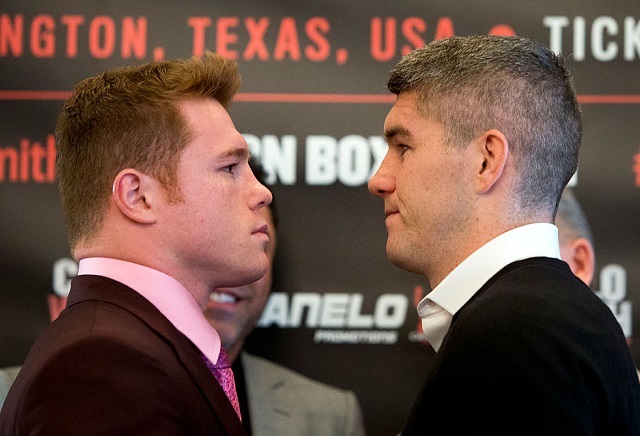 Alvarez v Smith - Sunday 02:00, Boxnation
This weekend 'Canelo' Alvarez (47-1-1) takes to the ring for the first time since he infamously knocked out Amir Khan in Las Vegas in May, but will his latest British rival be able to end his run of knock out wins?
The odds are stacked heavily against the current WBO light middle weight title holder Liam Smith (23-0-1) in his first professional fight outside of the United Kingdom. The Liverpudlian will be facing a Mexican fighter that has only been beaten once in 49 fights by the great Floyd Mayweather Junior. The Mexican carries a reputation for hitting hard and with odds of 2/5 to win by knock out its clear to see how the bookies think this fight will end.
Liam Smith crosses the Atlantic with his unbeaten record in tact but may find it an uphill struggle to protect it any further in the fight that was originally meant for Gennady Golovkin. With Canelo's critics voicing frustration at the Mexican's choice of opponents, some will say facing Liam Smith was a safe option compared to other bigger names in the boxing world. The British fighter will be looking to avoid taking shots from Alvarez and take the fight to the judges where he may stand a chance of capitalising on the score cards.
With odds of 13/2 on Liam Smith to win, the fair value of this bet is not truly represented in the price with a low pay back on offer across the board. If you're looking to bet on Liam Smith to win you should deserve to be paid out a far higher amount than the bookies are offering, especially when you consider his opponent is a 1/12 favourite. For all Liam Smith fans looking to back their fighter, they may find value in betting on his only real opportunity to win being on points at 22/1.
In reality the fight may well end up in another painful night for British boxing fans as Smith is knocked out in a repeat of Amir Khan's dramatic loss. While Smith is far more capable of taking heavy shots than Khan, the light middleweight champion may struggle to avoid punishment in the way Khan did for the first half of the previous bout. Smith could well find himself caught with a heavy shot in rounds 4-6 especially if trying to land his own power punches which he has come to rely on in his recent fights.
Alvarez rounds 4-6 - 1pt @ 11/4