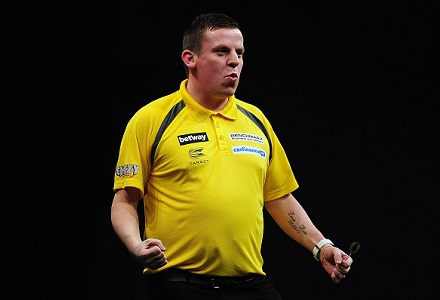 James Wade v Gary Anderson (19:15)
James Wade had last week off after playing twice in week two. In his last Premier League match it was a 'Machine'-esque 7-4 victory over an improved Robert Thornton. At the German Masters over Easter he fell 6-4 to Joe Cullen in round two, though that was no disgrace as Cullen followed up his quarter-final UK Open appearance by making the semi's in Munich. Gary Anderson won his sixth successive match in the league beating Dave Chisnall 7-4 although his checkouts were still a bit ropey missing 12 of his 19 darts at a double. He faired better than Wade in Germany, beating William O'Connor and Daryl Gurney before a surprising 6-0 whitewash as a 1/6 favourite at the hands of the aforementioned Cullen in the quarter-finals, where he averaged just 79.17 and didn't have one dart at a double. Anderson is 8/13 to make it seven wins in a row but we're siding with Wade in the markets once again who sits just two points behind the Scot. He's taken out a 95+ finish in 15 of his last 18 TV matches (83%) and despite the loss to Cullen still managed a 141 checkout.
James Wade highest match checkout over 94.5 - 1pt @ 5/6
Michael Smith v Phil Taylor (20:00)
It was must win for Michael Smith last week in a relegation battle with Robert Thornton but he came out on the wrong side of a 7-5 defeat. It leaves him bottom of the table with his Premier League campaign hopes hanging by a thread. Over the weekend he made the semi-finals in Munich but that probably belies his performances as he won just three more legs than his opponents in the four matches combined and averaged just 87.81 in the semi defeat. After Phil Taylor was lucky to take a point off van Gerwen two weeks ago he gifted Wright one after missing three match darts last week. Taylor will be looking to consolidate his top four position against the league's worst player and match odds of 4/11 are reflective of this. Smith's performances have been below par all year, particularly in the Premier League, and we can back him to average less than 94.5 here. He's averaging just 90.97 in the Premier League and overall on stage on the PDC tour it's just 91.97 meaning this bet would have won in 11 of his 16 matches (69%).
Michael Smith average under 94.5 - 1pt @ 5/6
Dave Chisnall v Peter Wright (20:45)
Dave Chisnall lost again last week to make it six defeats in seven. Bar his 180 hitting (he's hit the most in the league - 33), he's struggling with all areas of his game, particularly his finishing, missing 15 of his 19 darts at a double, meaning overall his checkout rate is just 34.62% - the worst in the league. He sits 9th in the league needing to better Robert Thornton's result to avoid relegation. Over the weekend he suffered a disappointing 6-4 3rd round defeat to Chris Dobey averaging just 89.68. Peter Wright made another final at the German Masters, although he was seeded as the number three player. In the Premier League it's no wins in five however, and without knowing what darts he's going to be using, a Snakebite-based bet is to be avoided. Instead focussing on Chizzy's consistent 180 hitting looks the way to go. His 33 180s have come in 84 legs at a rate of 0.39 per-leg. With the line set at 3.5 in places, 10+ legs should be enough for the St Helens man to land four in a must win game.
Dave Chisnall over 3.5 180s - 1pt @ 8/11
Robert Thornton v Adrian Lewis (21:30)
Robert Thornton upset the odds twice last week, firstly in beating Michael Smith 7-5 then securing a point against World number one Michael van Gerwen commenting "This has been a big boost to my confidence going into Judgement Night and the big thing is that it's in my hands now. I'm using new darts - with longer points and a better grip - and I think I proved I'm almost back to my best." Perhaps he's not quite back to his best though as he slipped to a 2nd round defeat to Chris Dobey in Munich at the weekend. Adrian Lewis narrowly beat Raymond van Barneveld 7-5 meaning all five of his wins have come against players below him in the table. Lewis suffered a shock defeat to James Richardson in the 3rd round of the German Masters, although it was largely through his own doing, managing only three successful attempts out of 21 at a double. This shouldn't come as too much of a surprise that his finishing was at fault with only Chisnall and Smith having a worse checkout rate (39.64%). With Thornton scrapping for every point with his new darts, focussing on Lewis' scoring power looks the route to take. He's hit 28 180s in 83 legs (0.34pl) in-comparison to Thornton's 15 in 84 legs (0.18pl) - nearly twice the rate. Even with Thornton's new darts, in 34 legs it's just 7 180s (0.21pl).
Adrian Lewis most 180s - 1pt @ 5/6
Raymond van Barneveld v Michael van Gerwen (22:00)
Raymond van Barneveld's failure to hold his throw in the final leg cost him a point against Adrian Lewis last week. Michael van Gerwen claimed he was ill in his draw v Robert Thornton but he bounced back with a seventh tournament victory of the year at the German Masters. It wasn't quite vintage MVG with his tournament average only 98.53. Odds of 15/2 on RVB look a tad dismissive considering he won their last meeting at the World Championships as well as their last Premier League group stage match 7-3. However, MVG has won 14 of their last 18 matches. After already profiting on Barney's highest checkout it once again looks good value when pitched at a lowly 86.5. He's now taken out an 87+ finish in 17 of his last 20 TV matches (85%).
Raymond van Barneveld highest match checkout over 86.5 (Paddy Power/Hills) - 1pt @ 5/6