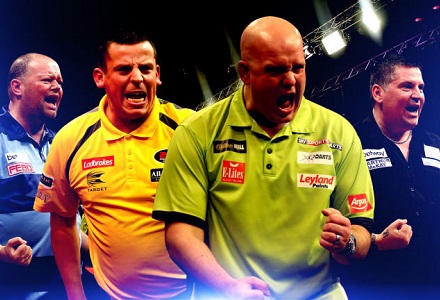 Michael van Gerwen v James Wade - 19:15
Michael van Gerwen came back from 3-0 down to defeat Phil Taylor 7-4 in front of his home crowd last week. MVG was his usual impressive self, even if he only sees it as average by his own very high standards. 100+ average, 16 100+ visits, 8 140+ throws negating just the one 180. His finishing was hugely impressive taking out 7 of his 9 double attempts (78%). James Wade managed to quieten the Dutch crowd beating their countryman Jelle Klaasen 7-3. The Machine put in his usual consistent performance averaging 94.32, 20 100+ visits, 5 140+ and zero 180s. Like Mighty Mike, his checkouts were sublime, finishing 7 of 11 (64%). As most weeks, MVG is heavy favourite at 1.24 and it's difficult to argue when he's averaging over 10 points higher than Wade (104.57 to 94.24). However, only once has he prevented his opponents from reaching at least four legs and with his vast supremacy it provides an excellent betting opportunity for the Machine. Once again his checkout line has been pitched at 89.5 which looks too low. This bet has won in 28 of Wade's last 33 TV matches (85%).
James Wade over 89.5 checkout - 1pt @ 1.83
Kim Huybrechts v Gary Anderson - 20:00
Kim Huybrechts didn't play as well as he has being as he suffered a 7-3 defeat to Adrain Lewis. He threw 3 180s and had a checkout % of 60% (3 of 5) but averaged just 90.17 allowing his opponent 21 attempts at a double. Gary Anderson didn't do a lot wrong in his 7-2 defeat to an inspired Raymond van Barneveld, averaging 102.69 and hitting 67% of his doubles. Anderson only leads Huybrechts 12-7 on their head-to-head and generally their matches are quite tight, with only three legs separating them in seven meetings since 2014 (39-36). With that in mind, and Anderson having won only two of his seven matches, odds of 1.5 on the Scot look about right. He's averaging 102.23 to Kim's 96.21 and checking out 41% of his doubles to 35%. However, he's only thrown three more 180s in four fewer legs (0.32pl to 0.27pl) and there seems to be some disparity in the market with Anderson as short as 1.47 to hit the most and as big as 1.77. With this discrepancy and Huybrechts ability to remain competitive, there looks to be value on the Belgian hitting more.
Kim Huybrechts most 180s draw no bet - 1pt @ 3.00
Peter Wright v Phil Taylor - 20:45
Peter Wright didn't put in that great a performance but was able to get the job done with a 7-4 victory over a below-par Dave Chisnall. Phil Taylor surged into a 3-0 lead against MVG but then the Green Machine's scoring power took over as he proceeded to win 7 of the next 8 legs for the match. Snakebite has had much the better year than the Power who in dwindling down his career but there isn't much to separate their Premier League performance statistics so the 1.8 available on Wright in places looks best avoided. Instead with these two throwing the 6th and 9th most 180s and the line set at an appealing 6.5, unders looks the way to play this one. Wright has thrown 22 180s in 77 legs (0.29pl) and Taylor just 12 180s in 79 legs (0.15). With the market anticipating 11 legs, only 4.79 180s are expected.
Under 6.5 180s - 1pt @ 1.9
Jelle Klaasen v Adrian Lewis - 21:30
Jelle Klaasen was disappointing in his home country losing 7-3 Wade where he averaged just 86.21, threw one 180 and checked out just 20% of his double attempts. Adrian Lewis performed reasonably well in winning 7-3, throwing five 180s with only a few double misses dragging his average down. There are mitigating circumstances for Klaasen though with him revealing last week he may require wrist surgery to cure his tendonitis. The Dutchman commented "It's all about how long I can play without the pain; normally about five or six legs into the game I feel it hurting even more and then my level drops." Klaasen sits bottom of the league, with the worst tournament average (93.75) and the worst checkout rate (30.77%). With Lewis averaging 97.64, the 3rd most 180s (24) and the 3rd best checkout % (39.58%) the logical bet here is for him to beat the handicap of just 2.5, generously priced at odds against.
Adrian Lewis -2.5 - 1pt @ 2.2
Raymond van Barneveld v Michael van Gerwen - 22:15
Raymond van Barneveld was superb in his 7-2 defeat of Gary Anderson last week. He averaged 103.71, hit five 180s and took out 7 of his 10 doubles (70%). He should come into this match against his fellow countryman with plenty of confidence. The handicap is 2.5 and MVG isn't battering his opponents but van Barneveld's tournament checkout % is the 7th worst at 35.78% and that's a concern. However, he is peppering the treble 20 bed having thrown by far the most 180s in the league with 29 compared to MVGs 21. Their current rates of 0.38pl and 0.31pl suggest that RVB should be favourite in this market yet he's the 3.15 outsider. We can even keep the draw onside and get a value 2.38. In their two Premier League matches last year, Barney won the 180 count 9-6 overall.
Raymond van Barneveld most 180s draw no bet - 1pt @ 2.38