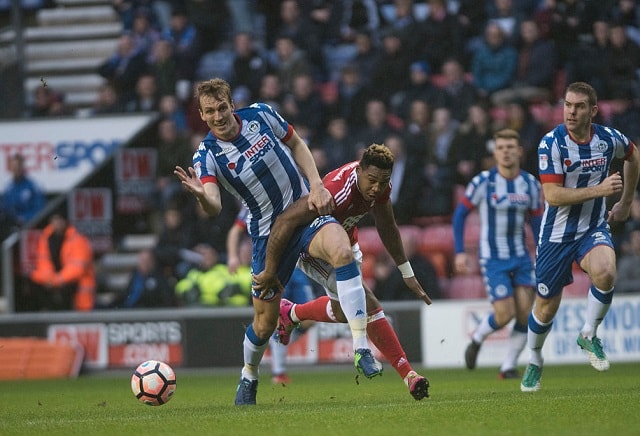 Rochdale v Wigan - Saturday 12:30, Sky Sports 1
Keith Hill has never been shy to draw comparisons between the size of his budget and other clubs in League One. Fair play to him. Rochdale's achievements have been remarkable over the past 15 months and when your chances of clinching promotion remain virtually non-existent, you earn the right to issue such reminders.
But the disparity here barely needs to be highlighted. Wigan aren't just a bigger fish, more a blue whale. As the first team ever to compete at this level while still receiving Premier League parachute payments, it is believed they are entitled to splash around seven times the resources available to Nigel Adkins at Sheffield United, for example. One can only guess how many times you can fit the wage bill at Spotland into that war chest, save to say it's a pretty big number.
So let's get one thing straight before we go any further: this should never be an each-of-two encounter. If Wigan are going about their business properly, they should consume whatever allowances you make for home advantage - about 0.28 goals by the standard average - and roughly the same again. By that rationale, you cannot really grumble with anything upwards of 5/4 about the away win - if you're so inclined.
This is mostly hypothetical, of course. Wigan aren't quite at full tilt just yet and might be granted a bit of leeway for a turbulent past 12 months and the inexperience of their manager. However, there's nothing circumstantial to suggest Gary Caldwell is out of his depth and, for the rest of the division, ominous signs are beginning to emerge.
According to the general narrative, Latics are currently in a slumber. They haven't yet delivered a performance befitting the quality in their ranks but they have developed a knack for doing just enough, relying on a handful of late goals to bag around a quarter of their 27 points. Now they make the short journey 28 miles east on the back of a nine-match unbeaten league run that stretches back to the September international break.
With this in mind, a 57 per cent shot ratio serves only as a warning sign of what could be achieved if they were to generate such urgency over longer periods. Only leaders Walsall are setting markedly higher standards, yet for Wigan parity with the likes of Burton, Coventry and Gillingham has been pretty effortless. So the question seems to be one of attitude.
At some point, Latics need to start taking the bull by the horns from the first whistle, then bets on them to win games like this become a no-brainer. For now though, we'll stick to the fringe markets and pluck out something that reflects the current plot and take big prices about the visitors falling behind in the opening 45 minutes then flexing their muscles after the interval.
For more information about Mike Holden's shot-based ratings system, follow this link.
Recommended Bets:
Rochdale/Draw (HT/FT) - 0.5pts @ 16/1
Lost -0.5pts
Rochdale/Wigan (HT/FT) - 0.5pts @ 33/1
Lost -0.5pts