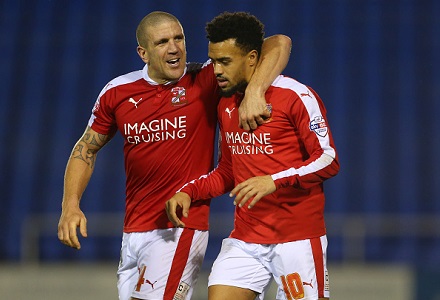 Swindon v Wigan - Friday 17:30, Sky Sports 1
They say ignorance is bliss, and you have to laugh at Wigan players carrying on as though they haven't got a budget seven times the size of any other club in League One. Their advantage isn't quite Paris Saint-Germain proportions but neither is the media spotlight, so it's rather amusing whenever analysis of their season strays into detailed appraisal.
Be under no illusions, Gary Caldwell's men should be top of the table, not six points adrift of a newly-promoted side who were 33/1 for the title at the outset. Two points per game is about par for their resources, so a current run rate of 1.84 isn't up to scratch. Not that it really matters. Automatic promotion is the goal and it's hard to imagine them not finishing the job now.
In fairness to the club, they haven't splurged their dough on big names ready-made to tear the division to shreds. There's been an emphasis on value and forward-planning. They've recruited players of high-end League One standard rather than mid-table Championship, twenty-somethings with a desire to wear the shirt rather than driven by a fat pay cheque.
But the margin for error has been huge. In their case, a 46-game season has been a blessing. They've had abundant time to make mistakes (without suffering defeats) and strike upon the right formula. Now they approach the final straight with sufficient answers, having road-tested 36 different players, and a squad as fresh as most others would be in October or November.
But that's the wider context. Here and now, they are beatable, and particularly so against a lively Swindon side who are probably the division's best-kept secret, playing for a manager who is arguably the country's best-kept secret. With the Latics suddenly under the microscope, take the 14/5 about the
Robins
putting them to the sword.
In commentary, plenty will be made of the fact that Wigan are currently on a 16-match unbeaten run. What might be pointed out less is the fact that Swindon have won the same number of matches (11) since these two sides last met in October - and the Wiltshire club have played one game fewer. The reason, for the most part, is Luke Williams.
Described by chairman Lee Power as "the best coach I've come across in 25 years of football", Swindon tried to keep the little-known 34-year-old under wraps but his rise to prominence seems irrepressible. With Williams taking on increasing responsibility, their shot ratio over the past 16 matches has risen from 41 per cent to 58 per cent.
Based on that 16-match figure, the Wiltshire club are currently ranked as the fifth-best team in the division - just a fraction behind fourth-placed Wigan - and when you combine those numbers for a standard fixed odds conversion, the home win should really be no bigger than 6/4.
As ever, when dealing with such a huge disparity, it pays to be bold in the hope that the outcome is emphatic. The Swindon
win-to-nil
option is available at 6/1, when it should be around 7/2, while there's also some mileage in the 17/2 quote about Swindon clearing the
-1 handicap
, which should be around 4/1.
Click here for more information about Mike Holden's shot-based ratings system
Swindon to beat Wigan - 1pt @ 14/5
Swindon to win to nil - 1pt @ 6/1
Swindon -1 on the handicap - 1pt @ 17/2