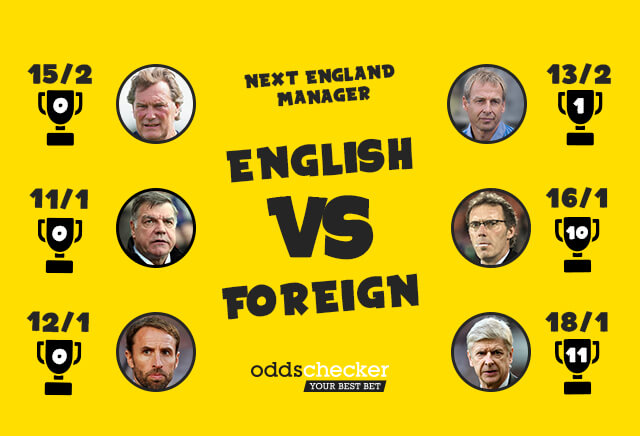 When Kevin Keegan stood down as England manager in 2000, the FA's priority was no longer an Englishman but a man who had a record of delivering trophies. Up stepped Sven-Goran Eriksson. Six years and no trophies later, the FA felt the need for an Englishman at the helm and in came Steve McClaren. Just 16 months later, his reign culminated in England's failure to qualify for Euro 2008.
The FA chopped and changed once more and realised the importance of having a man with a proven trophy-winning pedigree as manager and Fabio Capello was that man. Four years in charge and the Football Association had seen enough – an English manager was required. Up next on the managerial merry-go-round was Roy Hodgson. We know how that chapter ends.
A hideous Euro 2016 has left the powers that be looking to fill Roy's void with 'the best possible candidate' – be it an Englishman or not. It's been reported that a number of high-profile foreign targets are being considered, but how likely do the bookies make this?
The current favourite for the job is USA head coach and German, Jurgen Klinsmann. 'If you can't beat them, join them' springs to mind and few English fans will mind a German in charge if it means success. Klinsmann has a relatively short managerial career to-date but has achieved some success. He led his native Germany to third place in the 2006 World Cup before winning the CONCACAF Gold Cup with USA in 2013.
Frenchman Laurent Blanc is also in the running as far as the bookmakers are concerned. He began his managerial career in 2007 and has gone on to win 10 major trophies in that time, having won Ligue 1 with Bordeaux as well as PSG on three occasions. Unfortunately for Blanc, he failed to deliver the PSG owners' sought after Champions League title – could this open the door for a go on the international stage?
The third favourite, foreign candidate is 'Le Professeur' himself, Arsene Wenger. His credentials cannot be questioned but a number of Arsenal fans believe his methods are behind the times. It's unlikely Wenger would leave before the end of the upcoming season, but he seems to be open to discussing the England job.