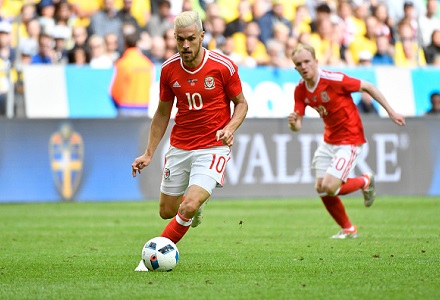 Robbie Fowler reflects on who has shone and who has disappointed so far in the Euros.
It's about time UEFA had a look at the 'two yellow cards and you are out of the next game' ruling, because for me it is just too harsh.
I'm not so much bothered about the group stages, but players like Aaron Ramsey and Mats Hummels are missing out on one of the biggest games in their career because of a yellow card, and that doesn't sit well with me. When you pick up a booking, especially early on in a game, it plays on your mind that one more mistake can result in you being sent off, and playing with that mindset, which takes an edge off your game, is punishment enough in my view.
Players are getting booked for the slightest infringement nowadays and being forced to miss a European Championship semi-final as a result is a step too far, plain and simple.
I've been thinking about who has shone in France this summer and I have to say that a lot of the big names have been pretty underwhelming.
For me, the player of the tournament so far has been Aaron Ramsey, he has been brilliant. It's a massive blow to Wales that the Arsenal man will miss Wednesday's semi-final with Portugal and I hope for his sake that Wales get to the final, because Ramsey has earned his right to play in that game. For me, Ramsey has outshone Bale who has had a decent tournament but he's not been outstanding, and that is the level the world's most expensive player should be hitting.
Click here for all the best Euro 2016 odds
Ronaldo, who goes head-to-head with his Real Madrid teammate on Wednesday, could yet steal the show by winning the tournament for Portugal and it wouldn't surprise anyone if he did, but he's blasted most of his free-kicks into the stands and his shoot-from-anywhere policy has been pretty frustrating at times.
France produced their best performance of the tournament against Iceland and players like Griezmann and Payet really turned it on, but I'm still waiting for Paul Pogba to show us why he's so highly rated. Many people think he's one of the best players in the world, and they might be right, but I haven't seen any evidence of that in this tournament and, from what I've seen of him, he's no £100m player.
I know Robert Lewandowski only scored one goal in the tournament but his movement and touch were a joy to watch at times and it might have been a different story for Poland had some of the chances that fell Milik's way fallen to the Bayern Munich striker instead.
It's impossible to be upbeat about any of the England players and none of our supposed big guns, the likes of Rooney, Kane and Ali, made any notable impression. This will look like a Liverpool bias but it is genuinely my feeling that Adam Lallana was probably our best player in the tournament and Roy made a mistake (one of many) in leaving him out of the Iceland game.
Spain may have succumbed to and Italian Job but Iniesta still showed us why he is still one of the finest midfield players in the game. He might be a lot older, but I would still have him over Paul Pogba in my team any day of the week.
He won't be playing on Wednesday, but for me Aaron Ramsey has played a starring role in the Welsh fairy tale.
All the best,
Robbie