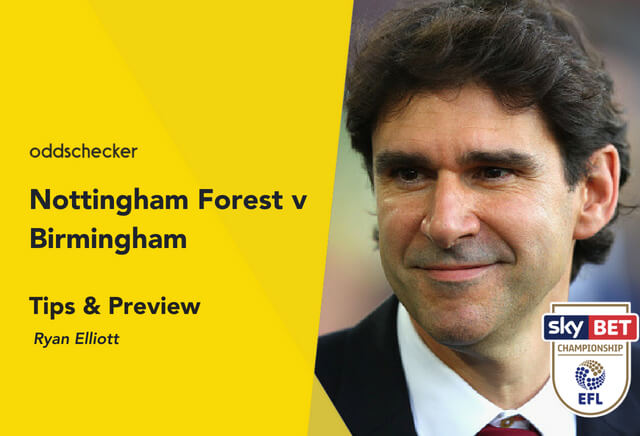 Winless Birmingham travel to unbeaten Forest.
I'll admit I was slightly wrong about Birmingham City. I thought they would be atrocious this season; continuing on from multiple years of desperate relegation scraps. They may be winless, but they have played well in their last two matches – a draw with Swansea and defeat to Bolton - and they have had their fair share of back luck along the way. The encouragement is there for the Blues, they just have to build on it, but Garry Monk's side seriously lack cutting edge.
Their performances don't scream out relegation, like QPR's do for example, and if they learn how to score goals, they shouldn't be in too much danger of relegation.
Nottingham Forest, tipped as possible promotion candidates at the start of the season, have had a pretty average start to their season. One win, three draws, five goals scored and four conceded is just a bit 'meh'. They're clearly hard to beat, but their new signings haven't set the world alight like many predicted them to.
This has the makings of two pretty toothless sides playing out a snoozefest. Forest are a superior side – not by a masssive margin, but enough – and should they win, it'll be by the solitary goal. Nottingham Forest to win by one goal is my first tip for this one.
Forest to win by 1 goal - 1pt @ 67/25
This next one is a no-brainer in my eyes. Six of the combined eight matches Forest and Birmingham have played saw fewer than 2.5 goals, so forgive me, fans of both teams, if I predict this to be a shocker.
They may play out a 4-4 game-of-the-season contender – splattering my face with egg in the process – but until that happens, I'm sticking to my guns. Fewer than 2.5 goals should be a banker.
Under 2.5 goals. - 1pt @ 19/25
If this preview is putting you off the match, I can only apologise. Sadly my last tip won't do much to improve its viewing prospects (you wonder why it was selected for TV). Birmingham have scored just twice this season – both of which in the second half against Norwich – while Forest have scored just the one first half goal this season.
This has 0-0 at half-time written all over it, and that'll be my final tip for this Saturday afternoon thriller.
Follow @RyanEJourno
0-0 @ H/T - 1pt @ 7/4