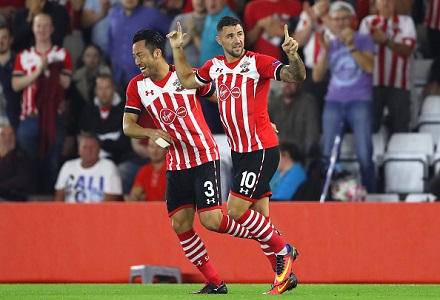 Southampton v Sunderland - Wednesday 19:45
Claude Puel has used 25 different players so far this season, 18 of whom having played some part in their last three matches since the international break. Such heavy rotation has its pros and cons, but the lack of any clear hierarchy among senior players should only benefit Southampton in this competition.
Whatever team the Frenchman sends out here, we should expect Saints to be fresh and focused - and, ultimately, too strong for Sunderland. The Hampshire club were comfortable 2-0 winners against Crystal Palace in the last round, when the Eagles were in the midst of a six-match unbeaten league run, which included beating Sunderland 3-2 from 2-0 down a few days later.
David Moyes used that game as an example of how this competition might benefit the Black Cats, suggesting the 2-1 win over QPR in the last round was the catalyst for them taking that 2-0 lead against the Eagles, even though they couldn't hold on to it. That snippet aside, though, he's making no secret of the fact that the Premier League is very much their priority.
So there's a notable class divide between the two sides, one that over-rides all analysis about schedules or the change in dynamic. Expect Saints to coast this one in a business-like fashion, but not to such an extent that they humiliate their opponents. Split a point between the Southampton 2-0 and Southampton 3-0 correct scores at 6/1 and 9/1 respectively.
£10 Free Credit and a £500 Deposit Bonus
Southampton 2-0 correct score - 0.5pts @ 6/1
Southampton 3-0 correct score - 0.5pts @ 9/1