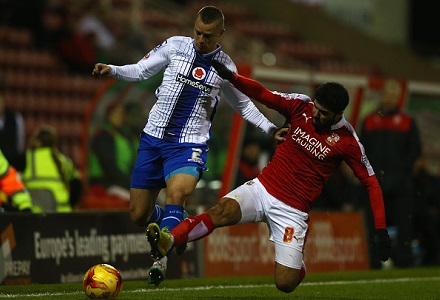 Walsall v Coventry - Saturday 15:00
One statistic published on the @SaddlersStats Twitter page this week sums up Walsall under Jon Whitney better than anything else possibly could. In nine home matches, the Saddlers have had nine different half time scores and nine different full time scores. Finding any sort of pattern to games played at the Banks's Stadium this season is nigh on impossible.
Faced with that sort of unpredictability, you can either run a mile or embrace the madness and there's enough variance in the underlying data to believe we can be handsomely rewarded for simply having a bit of fun. Split a point between the two second-half turnaround options with both the Walsall/Coventry and Coventry/Walsall half time/full time bets available at 28/1.
A month ago, only one side of that wager would have appealed. Coventry were winless after ten matches, having squandered three separate leads in September. However, a weight of responsibility has been lifted since the departure of Tony Mowbray. With four wins in the last five matches, Mark Venus has got them back on track. Suddenly, a win from behind isn't quite so unforeseeable.
As for Walsall, anything is possible. They come into this local derby on their longest unbeaten run - five matches - since Whitney picked up the reins back in February. In their last home game, they were pegged back twice by managerless Shrewsbury, eventually winning 3-2. But two months ago, they blew a 3-0 interval lead at home to Bury, a game that finished 3-3.
£10 Free Credit and a £500 Deposit Bonus
Walsall/Coventry half time/full time - 0.5pts @ 28/1
Coventry/Walsall half time/full time - 0.5pts @ 28/1