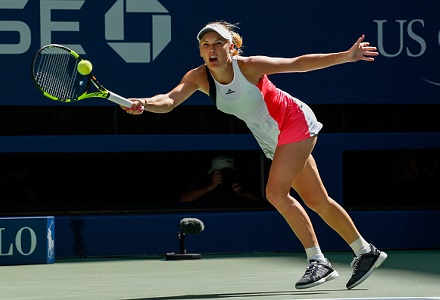 Rory Jiwani thinks Caroline Wozniacki has been handed a very winnable quarter-final match.
We're getting to the business end and looking to bounce back from a pretty dismal fourth round. I don't think we'll be revisiting 'Operation Get Novak Beat' again this fortnight after his demolition of Kyle Edmund. On his day, Jo-Wilfried Tsonga could trouble him but he would have to be double figures for me to consider him.
Gael Monfils is one match from landing our second quarter bet and it looks far easier than it appeared at the outset with compatriot Lucas Pouille his opponent after upsetting Rafa Nadal. Given our position it would be foolish not to have a small bet on the underdog who is a big price based on his performances here and at Wimbledon where he beat Juan Martin del Potro.
Claim Now£10 Free Bet - NO DEPOSIT REQUIRED!
Speaking of del Potro, he now faces Stan Wawrinka in a rematch of their Wimbledon clash which the Argentine won in four sets. I think Wawrinka will have learned plenty from that defeat and will target del Potro's weaker backhand wing. Around the 11-8 mark is more than fair.
I'm confident Andy Murray will have little trouble getting past Kei Nishikori in their quarter-final. A shade of odds-against about straight sets is fair but it's not my sort of bet.
Lucas Pouille to beat Gael Monfils - 1pt @ 9/2
Stan Wawrinka to beat Juan Martin del Potro - 2pts @ 24/17
I'm feeling a bit miffed about Karolina Pliskova's run to the quarter-finals. I've long thought she had the ability to win big tournaments but her dismal performances in majors led me to abandon that ship a while back. And she has a great chance to reach the semis with Ana Konjuh a far easier opponent than her nemesis Agnieszka Radwanska. Konjuh is a child prodigy who has had a difficult couple of years before finding her best form here and the obvious danger is she may not be able to raise her game again. But the odds look about right.
Few would have thought Caroline Wozniacki (world ranked 74) capable of a run at Flushing Meadows but here she is in the quarters and with a very winnable match against Anastasija Sevastova. I have to say I am stunned to see Sevastova reach this stage - she is a good all-round player with good variation but I thought she would struggle badly against quality opposition as demonstrated by her double-bagel defeat to Simona Halep earlier this year. I can see Wozniacki getting back everything Sevastova throws at her and the Latvian making plenty of unforced errors. The Dane often comes on strong in the second set so I'll be playing her to win 6-0 and 6-1 then.
I was thinking I would bet on Simona Halep to win a set against Serena Williams but 13-10 is too short for my liking. Williams is serving so well at present and, while I think Halep has a chance, the odds are shorter than I would have hoped.
Angelique Kerber should beat Roberta Vinci comfortably and I've just about decided to have a bet in this. After her exploits 12 months ago, the Italian is not one to take likely but Kerber is at the top of her game and I will have a small play on her winning the first set 6-0 and 6-1.
Caroline Wozniacki to win second set 6-0 v Anastasija Sevastova - 1pt @ 20/1
Wozniacki to win second set 6-1 - 1.25pts @ 8/1
Angelique Kerber to win first set 6-0 v Roberta Vinci - 1pt @ 12/1
Kerber to win first set 6-1 - 1.25pts @ 6/1