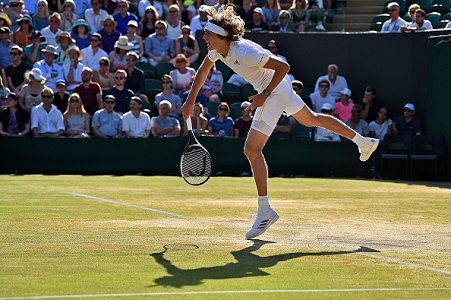 Two of the best bets from Manic Monday at Wimbledon as we enter the second week.
The first tip of the day will be in the match between last year's finalist Milos Raonic and everyone's future number one, Alexander Zverev.
Raonic's big serve does not need explaining and with Zverev also 6'4'' he too has a big serve, so I'd expect a couple of tie breaks in this match.
Zverev is far better on the return than Raonic has been at Wimbledon this year though. Raonic has not returned well, with his backhand looking especially weak. I'd expect Zverev to serve into that wing when a tight spot and I think that, along with the greater creativity from the German, to be the difference.
I disagree with the bookies that Raonic is the favourite for this match and for that reason I'm siding with Zverev to make a breakthrough at Wimbledon.
Alexander Zverev - 2pts
Another match between an upcoming star and a big server is the one between Dominic Thiem and Tomas Berdych. I expect this one to be extremely tight at times but I think Thiem will come through against the fading Czech.
I think bookies are basing the odds for this match on the repective past records on grass and Wimbledon. Berdych is not the player he once was though and has only made one final this year in Lyon. So while he is a former finalist and reached the semi final stage last year, I think Thiem will have too much for him.
Thiem did not have good results in his warm up torunaments to Wimbledon but I actually see that as a good thing for him. He is one of the players on tour that enters the most tournaments at the moment, which means the rest and time to practise at Wimbledon could have done him a world of good.
I watched his match against Donaldson on Saturday and he was imperious at times against the young American that pushed him hard in one of the highest quality matches I've seen so far at SW19 this year.
Dominic Thiem - 2pts