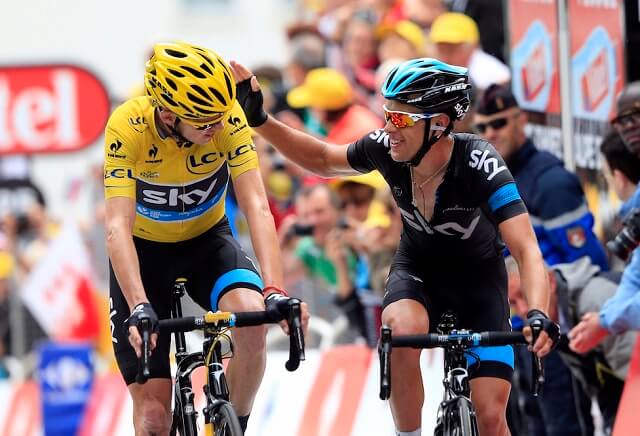 While Euro 2016 will continue to dominate the headlines here for another few weeks there is another major sporting event happening on French soil this weekend. The 103rd edition of the Tour de France sets out from Mont Saint-Michel on Saturday for the start of three gruelling weeks and over 2000 miles in the saddle.
The Route
When Bradley Wiggins made history in 2012 as Britain's first ever Tour de France winner he did it on a parcours that couldn't have been more perfect for his particular talents. That year saw just three mountain summit finishes, none of which were on one of the race's hardest Hors Categorie climbs, and also featured over 100km of individual time trialling. So the route will go a long way to deciding who the winner will be.
A look at the distribution of King of the Mountain points highlights the nature of the 2012 route as there was a maximum of just 60 points at summit finishes out of a total of 373 KOM points throughout the race (16%). In contrast the past three years have averaged 180 summit points out of 447 (40%) and this year's race follows that pattern with 170 at summits out of a total of 487.
This year's route looks to be an exciting one with plenty of fireworks expected in the mountains. The Pyrenees should give us the first major shake-up in the general classification but the Bastille Day trip up Mont Ventoux on Stage 12 and then a 37 km time trial the next day promise to give us a clear favourite for victory. There will still be opportunities for things to change, however, as Stages 17-20 take us into the Alps and offer two summit finishes and another time trial; we've already seen the Giro D'Italia decided on the final climb this year and we could easily see a repeat here. Interestingly, a look at the individual climbs suggests the organisers have looked for steeper ascents than are traditionally seen in the Tour.
However, it certainly won't simply be decided by who can go uphill fastest. Three stages finish with descents off of either Category 1 or HC mountains, including the last decisive stage down into Morzine. There are also 54 km of time trials, compared to just the 13.8 km Stage 1 last year. And don't be surprised to see splits in the peloton on day one, as a trip up France's coast with a forecast of strong cross winds promises echelons and carnage right from the start.
The Favourites
Chris Froome (2.5): Froome heads the market after two yellow jerseys in the past three years. He arrives off the back of an encouraging win in the Criterium du Dauphine, just as he did prior to his previous two triumphs, and has the backing of the best team in the race.>
Nairo Quintana (3.1): Also arrives fresh off a win at the Route du Sud where he impressively won the time trial. He's also claimed general classification wins at Romandie and Catalunya this year and has never arrived at the Tour with such impressive form.
Alberto Contador (7.5): The two-time champion won Pais Vasco in April; winning the deciding time trial. More recently, however, he only managed 5th in the Dauphine, but his three other stage races earlier in the year all saw him finish on the podium. Given he's won seven of the 10 Grand Tours he's completed (excluding those results that were struck through for doping) he looks a major contender.
General Classification Analysis
The two time trials have been marked as giving Froome an extra edge over his rivals compared to last year, but how true will that be? In his only TT result this year he was beaten by Thibaut Pinot and recorded the same time as Quintana. It certainly looks like Quintana has developed into a far stronger TT rider and with the nature of the two tests, both of which have significant uphill and technical sections, and Froome's advantage looks far less. Of the other contenders we'd expect Contador and Pinot to go well on these stages.
The mountains also look less likely to play into Froome's hands. Firstly, the climbs are generally steeper than are seen in the Tour and play into the hands of the lighter Colombian. Secondly, Team Sky took a big advantage on the first day in the high mountains in both of Froome's previous triumphs, in 2013 and 2015, but this time the first two stages in the Pyrenees finish with descents; an area where Froome is more vulnerable. However, one advantage he'll have is in the quality of his team as the likes of Mikel Landa, Geraint Thomas and Wout Poels should give Team Sky strength in numbers on the hardest days.
If the likes of Quintana and Contador can stay with Froome in the first two weeks then they will hope to pressure him in the savage finale in the Alps. In 2015 Quintana took back almost two minutes in Stages 19-20 while in 2013 he pulled back 95 seconds in Stages 18-20.
Overall, it looks to be a battle between Froome and Quintana. With Quintana another year stronger, at 26, and with a route that suggests it might not be quite as easy for the Brit to build such a big early advantage we think it is the Colombian's time. The time trials shouldn't have the impact they had in 2013, when Quintana didn't initially start the race as a GC contender, and the steeper climbs should play to his strengths. Last year the Colombian lost 1:28 to Froome on a flat day in the wind on Stage 2 but only finished 1:12 back at the end in Paris. With better luck he would already have a yellow jersey and would probably be starting this race as the favourite.
Top 10
Further down a couple of names stand out for a Top 10 finish. With question marks over the form of Fabio Aru, Astana might give Diego Rosa a bit of a free rein after he finished in seventh in the Dauphine. Meanwhile, Mikel Landa has the quality to podium at his very best and if he can avoid losing time in the first half of the race Team Sky will try to keep him up there in the top 10. Ion Izaguirre is another rider who is in superb form, having finished in the top five of all five stage races he's done this year, and could climb into the top 10 simply by supporting his leader. Furthermore, if anything happens to these riders' leaders their chances will improve significantly so they offer some cover to any bad luck elsewhere.
Points Classification
As long as Peter Sagan stays on his bike he'll win the green jersey. He had brilliant form in the spring to claim his first Monument at the Tour of Flanders and has carried that through into wins in California and at the Tour de Suisse. A few of the sprint stages finish uphill and after five second places in last year's race Sagan should take at least one win this time around.
Nairo Quintana to Win Tour de France - 1pt @ 3.1
Diego Rosa Top 10 - 0.5pts @ 15.0
Mikel Landa Top 10 - 0.5pts @ 3.75
Ion Izaguirre Top 10 - 0.5pts @ 10.0
Peter Sagan To Win Points Classification - 1pt @ 1.62