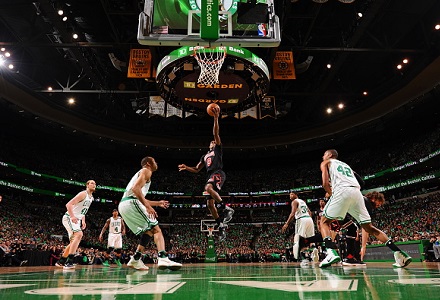 Back the Bulls on the point spread when they host Boston Celtics on Friday night.
Boston Celtics @ Chicago Bulls - Saturday 00:10
Boston Celtics managed to wrestle the top seed in the Eastern Conference away from Cleveland Cavaliers in the final throes of the regular season but they may well fall at the first postseason hurdle against an inspired Chicago Bulls side.
The Bulls lead series 2-0 ahead of the first of two games at the United Center and they can kill this best of seven match-up off without having to return to Boston. Chicago appear to have the measure of the Celtics, having edged Game 1 by four points before a commanding 111-97 success in Game 2 – winning every quarter in a thoroughly dominant performance.
Fred Hoiberg's men only just made it over the line to join the playoff party but now they're here they look a different side altogether. Former Celtics man Rajon Rondo perhaps embodies this change, he averaged 10.7 points, 5.1 rebounds and 6.7 assists per game in the regular season and has bettered those stats in both playoff games so far. Rondo won the Championship with Boston and he's playing like a man who already has a ring, wants another and knows how to get it.
Rondo, Jimmy Butler and Dwayne Wade are all on form and the Bulls are starting to look like the team they promised to be before the season began. Chicago beat Boston in both games between the two at the United Center in the regular season and have an incredible home record over the Celtics in recent years, winning all but one of the eight meetings between the two since November 2012.
The regular point spread is set at -2 for the Bulls but we can go bigger in this one and take the odds-against on offer for a Chicago win with a -5.5 handicap.
Chicago -5.5. - 1pt @ 10/11