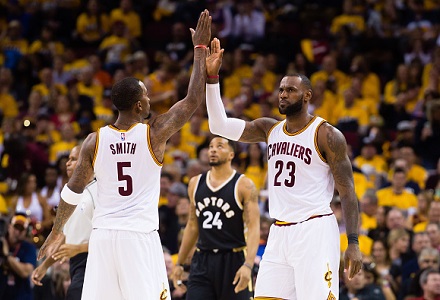 Gareth Freeman has a points spread bet for tonight's Eastern Conference semi-final.
Cleveland Cavaliers @ Toronto Raptors Betting Tips & Preview
Cleveland Cavaliers lead Toronto Raptors 2-0 ahead of Game 3 on Friday night in a repeat of last year's Eastern Conference Finals. The Cavs managed a 4-2 series win on route to their Championship success last year and they look set to secure another series win over Toronto.
Cleveland limped towards the finish line in the regular season but have upped their game in the playoffs, winning all six of their games so far after a 4-0 sweep over Indiana Pacers in the first round.
Meanwhile, Toronto made hard work of getting past the Milwaukee Bucks in their opening assignment as they eventually prevailed in six, winning the final three of the series.
Cleveland managed a comfortable win in Game 1 against the Raptors and dominated the second to take a commanding lead to Ontario for the two away games. LeBron James has been in incredible form, hitting 35 points in the series opener and going four better in Game 2.
The 13-time All Star averaged 26.4 points and 1.2 steals per game in the regular season but he's averaging 34.2 points in the postseason, and leads the way with steals with 2.7. With King James in full playoff mode the Cavs now look like the defending champions, having appeared there for the taking just a few weeks ago.
Cleveland's regular season losing away record of 20-21 is a minor cause for concern but they did win both regular season games in Toronto. The Cavs are just about favourites with the bookies and the point spread is set at a modest -2.5 for the visitors.
Cleveland have won all of their playoff games by at least four points aside from Game 1 against the Pacers, and after outscoring the Raptors by 33 points in total in the first two games they can pass the -5.5 mark at the Air Canada Center this evening.
Cleveland -5.5 - 1pt @ 31/20