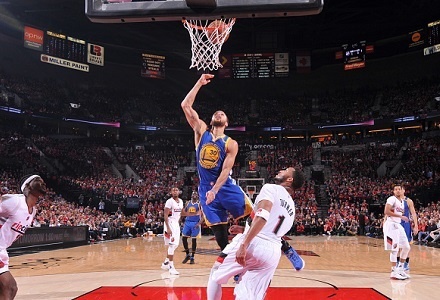 Gareth Freeman has the best betting advice for tonight's big NBA clash.
Golden State Warriors @ Cleveland Cavaliers - Thursday 02:05, BT Sport 1
Golden State Warriors lead Cleveland Cavaliers 2-0 in the NBA Finals ahead of Games 3 and 4 in Ohio as thea defending champions find themselves in a familiar position.
The Cavs were 2-0 down at the same stage last season but rallied in their first home game of the series, hammering Golden State by a 30-point margin to reduce the deficit. The Warriors did restore a two game lead before Cleveland completed one of the most memorable comebacks in NBA history.
A repeat looks unlikely however, as Golden State have clearly improved since last year's Finals Series. Admittedly the Cavs didn't really turn up in Game 1 as they went down 113-91. The champions improved in Game 2, LeBron James recorded a triple double and a tweak in tactics saw the Warriors commit 20 turnovers to Cleveland's nine – but it made virtually no difference as the hosts won by 19 points regardless.
For anyone supporting Cleveland they can take some comfort from the fact they've won three of the last four meetings between the two at the Quicken Loans Arena. Unfortunately, the last of those victories came back in December, before Kevin Durant had really settled into life with Golden State.
In the first half of the season Durant didn't quite seem to fit, despite his undoubted quality, but he has become integral in the latter half of the campaign, particularly in the postseason. The small forward has eased the scoring pressure on Steph Curry, and allowed Klay Thompson to focus more on the defensive side of his game.
Durant's scoring (he leads the way in the Finals with 71 after two games) has ensured the Warriors haven't trailed after the first quarter in either game and with the way Golden State have played it is hard to see any way back for Cleveland.
The point spread is set at a fairly modest -3 for the Western Conference champions in Game 3 but given their dominance so far it makes sense to be a bit braver and take the 6/4 on offer for the visitors with a -6.5 handicap.
GSW -6.5 - 1pt @ 6/4