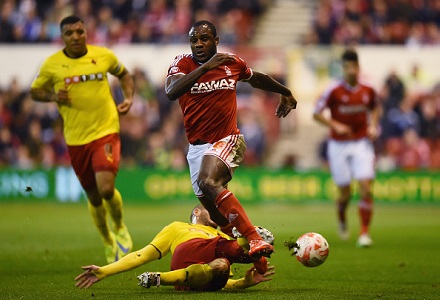 Nottingham Forest v Derby - Friday 19:30, Sky Sports 1
Derby can climb to the top of the Championship with victory over their arch rivals in what is bound to be a raucous Friday night clash at the City Ground but don't pay much attention to recent results when deciding where to put your money - make sure you grab some of the 27/10 available on a Nottingham Forest win. It's a verdict based on much more than just the old cliches about derbies, formbooks and windows.
The Rams are currently on a ten-match unbeaten run, having picked up 26 points from the last available 30, whereas their hosts haven't won in eight attempts, all of which means the visitors' current superiority over Dougie Freedman's men is more than a point per game across the opening 15 rounds of the season. But those are just plain numbers, scratch beneath the surface and you'll find there's not a world of difference between the two sides.
Both have big squads and tactically-astute managers who are happy to rotate and both tend to control games and dominate the opposition. That Derby are fifth in the shot ratio table will shock nobody, they are fifth in the league table, but Forest being seventh, some 12 places higher than in the one that matters, might surprise a few.
The major difference, of course, is that Derby are paying top dollar in terms of wages and when it comes to converting chances, you get what you pay for. On that basis, you'd expect the Rams to maintain a healthy advantage over the Reds for the remainder of the campaign. But there's no escaping the sensation that randomness has created an imbalance over the past couple of months that needs to be addressed.
Over the past 20 years, these two clubs have spent 12 seasons in the same division and home advantage over the course of those last 24 league derbies has been worth 0.73 goals, more than twice the normal average. Throw that figure on top of the shot data and you could make a case for flip-flopping the prices and making Forest 6/5 favourites here.
One look at the respective line-ups tells you that would be absurd, but it's only slightly more absurd than a situation that has Paul Clement's men trading as short jollies in such a partisan venue. As with most derbies where the home side are fancied, there's extra value to be found in the Forest/Forest half-time/full-time outcome because early on is when a seething cauldron works its best magic.
Meanwhile, the last eight meetings between these two teams have produced five red cards, four of them brandished at visiting players. With that in mind, and the knowledge that Forest are currently five goals short of their expected goals total, it might also be worth a punt on Forest to win by two clear goals at 7/1 or better.
With his position the subject of increasing speculation, Freedman knows he needs to win this game but you also sense that he sees an opportunity to write-off the last eight results at a stroke and get the fans back onside with a long-overdue success. And maybe perhaps there's a suspicion that his luck might be about to turn, simply because it has to sooner or later.
Asked about his thoughts on playing Derby next following Tuesday's 1-0 defeat at Preston, he said: "Thank god for that. I really want this game. I want a big occasion. I want it on Sky. I want us to show everybody exactly how well we're playing. Hopefully we can play as well as we did tonight and I'm convinced we'll get the win. This is exactly what we need. We need big occasions and we need to be put in the spotlight and see who's up for the challenge."
For more information about Mike Holden's shot-based ratings system, follow this link.
Recommended Bets:
Nottingham Forest to beat Derby - 2pts @ 27/10
Nottm Forest/Nottm Forest (HT/FT) - 1pt @ 11/2
Nottingham Forest -1 on the handicap - 1pt @ 15/2