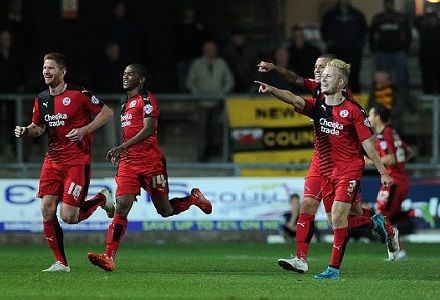 Northampton boss Chris Wilder made the headlines with a remarkable post-match interview following Saturday's win at Notts County, pleading with chairman David Cardoza to do a deal with Kelvin Thomas over the sale of the club. His allegiance to the Thomas camp came as no surprise and the timing of the outburst was no accident.
The Cobblers are due in court this Friday for an administration hearing and Wilder's stock at Sixfields has never been higher. It was the perfect time to strike. Now local reports suggest a deal will be completed before Town take to the field at the Broadfield Stadium on Tuesday night. Wilder's words, it seems, were the final push.
All of which makes you wonder, is this just the end of the saga, or might it also signal the end of the motivational fuel that has driven Northampton on through all the uncertainty? Wilder made no secret of the fact he knows the details of the Thomas deal, so one assumes he has been using that information to his advantage over the past three weeks while his players have gone unpaid.
If that's the case, then the current mood in the Cobblers dressing room is likely to be a mixture of relief and satisfaction, which means they might lose some of their edge against Crawley.
Take the 19/10 available on the Red Devils picking up maximum points
. Their form since the end of September has been every bit as good, without the emotional turbulence.
Indeed, it's highly typical of a Mark Yates team to come good at this time of year. After nine matches, the Sussex outfit were second from bottom on a meagre six points but the likes of Daryl Flahavan, Josh Yowerth, Mitch Hancox and Rhys Murphy have all been valuable additions. Over the past nine games, Crawley have picked up 19 points and it's not a bubble we should expect to burst any time soon.
This is Yates' seventh successive season managing at League Two level and his overall record between October 1st and December 31st reads W36 D17 L17, which works out as a 52 per cent win ratio and an average of 1.79 points per game. And based on this season's shot data, the home side should be no bigger than 6/4.
Meanwhile, leaders Plymouth were besieged by injury problems ahead of the Devon derby on Saturday and that's obviously swaying the early prices ahead of their clash with Leyton Orient. Curiously, though, Derek Adams is staying tight-lipped about the availability of the five players who missed the 2-1 home defeat by Exeter,
raising the suspicion there might be significant value in the 9/5 about the home win
.
My tissue shows Argyle at shorter than 6/5, so there's plenty of margin for error and the ambiguity in Adams' pre-match assessment is teasing enough to take the plunge. Luke McCormick, Peter Hartley, Carl McHugh, Hiram Boateng and Reuben Reid are the key names to keep an eye out for. If only two of them turn up on the team sheet just before 7pm, then we're looking at a value bet, and at least three of them were believed to be close at the weekend.
Leyton Orient might be holding a fairly lofty league position but they are not a team that's functioning well. The O's have only won three of their last 13 league matches, and all eight of their victories to date have been against bottom-13 opposition. Against the top 11, they are winless in six attempts, so it's quite a stretch to put such a short price on them taking maximum points on the road against the leaders.
For more information about Mike Holden's shot-based ratings system, follow this link.
Crawley to beat Northampton - 1pt @ 19/10
Lost -1pts
Plymouth to beat Leyton Orient - 1pt @ 9/5
Lost -1pts