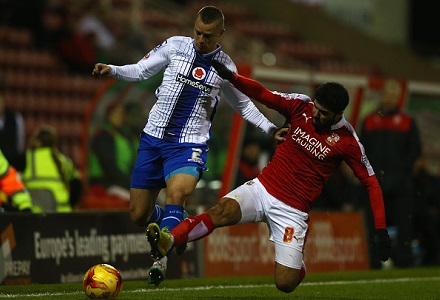 Walsall v Port Vale - Sunday 12:00, Sky Sports 1

Walsall have made the most sensible appointment they could have possibly made in Sean O'Driscoll. The transition from one regime to another should be seamless. The solid foundations put in place by Dean Smith and Richard O'Kelly over the past five years will stay intact. There's plenty of mileage left in this storyline just yet.

But sensible is the operative word. O'Driscoll is a safe pair of hands, he's not a risk-taker. In his first press conference, he even admitted he won't add much to what's already there. If anything, he'll be the one learning from the backroom team he inherits, on top of what he already knows about the club through his long-standing friendship with Smith and O'Kelly.

As such, it's hard to escape the conclusion that Walsall's automatic promotion chances have probably diminished slightly but their top six credentials have just solidified. A greater emphasis on possession is to be expected. Clean sheets are likely to become a bigger priority and success could depend on how clinical they are from a smaller pool of chances at other end.

During his two seasons at League One level with Doncaster, O'Driscoll oversaw 39 clean sheets, more than a quarter of which were 0-0 draws. He's not a negative manager, it's just how his emphasis on possession manifests. Players go sideways more often, play the safer pass or take an extra touch. With him, it's nine-tenths of the law.

It's arguably too soon for O'Driscoll to have any discernible influence on how Walsall play here but any mention of possession in his pre-match pep talks might only serve to reinforce what promises to be a fairly low-scoring encounter in any case, although Port Vale provide the core reasoning behind bets on a goalless first half and under 1.5 goals over 90 minutes.

Click here for all the best Walsall v Port Vale odds

The Valiants have a blueprint they have tried to follow repeatedly on their travels, albeit without much success. But God loves a trier and the presence of the television cameras might just sharpen the focus a tad more than usual, helping them get that bit closer to the clean sheet they prioritise.

Vale have conceded only 14 goals in the first 75 minutes this season, the same as Walsall. Only Burton (13) have conceded fewer. Then concentration starts to waiver. In the final 15 minutes, they've conceded ten times. In all competitions, Rob Page's men have reached the hour mark unbreached 16 times.

But they went the full distance against West Brom in the Capital One Cup, 120 minutes of staunch resistance at the Hawthorns back in August. A lot of football has been played since then, of course, and that's a primary factor where concentration is concerned. Nonetheless, it's an exhibit that suggests they can go the distance here.

Either way, the under 1.5 goals bet gives us some leeway. Given that Walsall, the side chasing promotion, are at home, you would expect some sort of kitchen sink job to be thrown at the visitors eventually and Vale have buckled late on when suffering narrow defeats at Bradford, Bury and Burton.

Meanwhile, nine of their 21 league matches have been goalless at the break. That implies odds of around 6/4 rather than 9/4 would be more appropriate on that particular bet.

For more information about Mike Holden's shot-based ratings system, follow this link.


0-0 half-time correct score - 1pt @ 9/4
Under 1.5 goals - 1pt @ 31/10