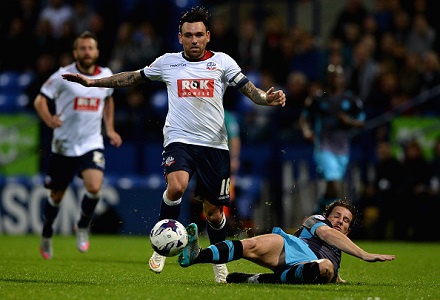 Bolton look to stop horrible run of form.
Sometimes, at the risk of looking ridiculous, you have to ignore the obvious and stand up against the money. The circumstantial evidence might all be pointing in the same direction but you must remind yourself it's a game of football - 11 versus 11 - and the numbers simply don't add up. Supply and demand. Everybody wants to be with Blackburn, therefore the value - one way or another - is with Bolton.
Neil Lennon's position as Whites manager was already bordering on untenable before the Boxing Day trip to Rotherham. Tawdry revelations in a Sunday newspaper about his private life last weekend prompted an internal club investigation - which spared him the axe, for now - and when the Ulsterman needed his players to take the heat off him most, their response was hardly a beacon of solidarity.
Wanderers suffered a 4-0 drubbing at New York Stadium, Grant Ward's half-volley triggering a second-half collapse that culminated with three goals in 12 minutes. And all this while Blackburn were sat at home with their feet up, their game with top-of-the-table Middlesbrough postponed due to a waterlogged pitch, giving them a distinct rest advantage here.
Throw in the fact that Rovers are still in the midst of Paul Lambert's honeymoon period, whereas Bolton players haven't been paid for several weeks - making Lennon's position hardly their priority - and you get a pretty convincing picture. This game can only go one way. Needless to say, the away win on Oddschecker was a sea of blue come Saturday evening with Rovers shortening from a general 6/4 to a best-priced 13/10.
However, now that the dust has settled, there's a contrary picture to consider. If nearly everyone outside of Ewood Park is viewing this game as a forgone conclusion, then maybe those inside are too. However, four wins in ten matches against teams below them in the table is hardly a ringing endorsement of Blackburn's mental strength in such scenarios.
The Bolton players might be facing uncertain futures but there's nothing uncertain about the shop-window potential offered by a game in front of the Sky cameras just four days before the transfer window opens. The opposition might be stronger than two days ago but expectations are much lower and the incentive is far more tangible.
When these two sides met first time around in August, the outcome was a dour goalless draw - one of four involving Blackburn this season, one of five involving Bolton - and my 24-match ratings generate a total goals expectancy at around 2.12, which by standard conversion would suggest the 15/2 quote about this game going the same way is around a point bigger than it really ought to be.
When a team, such as Bolton, has only won one of their first 23 matches, and broken the deadlock only four times, it's extremely difficult to make a case for them winning the game at 13/5. And though points are clearly a priority for a club that sits bottom of the table, seven points adrift of safety, professional pride might be the primary consideration for the players and that means not getting beat.
More odds on Bolton v Blackburn
No goalscorer - 1pt @ 15/2