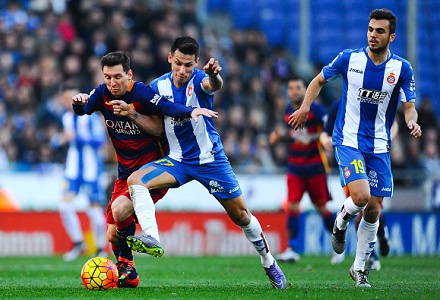 Mike Holden is expecting the goals to flow in tonight's live La Liga match.
Espanyol v Rayo Vallecano - Monday 19:30, Sky Sports 1
Just when it looked like Espanyol had got their act together, striking upon a formula that seemed destined to haul them clear of danger, fate intervened, and a humbling 3-0 home defeat to Real Betis in midweek owed much to a virus that swept through the camp in the days after a morale-boosting 4-2 win at Sporting Gijon.
Now Constantin Galca faces one particular dilemma: does he revert to the 4-1-4-1 system that showed so much promise in the three games prior to the Betis debacle, or does he stick with two strikers against the division's leakiest defence? The Romanian coach is keeping his cards close to his chest in the build-up.
Against Betis, the decision to play 4-4-2 was largely dictated by who was available but it would be dangerous to blame the formation for the outcome. Naturally, though, the local media are putting two and two together and calling for 4-1-4-1. Only a fortnight ago, Galca was said to be one bad result away from the sack, so playing two up front would be a bold call.
Either way, there's ample evidence to suggest this game will produce goals. It's almost a cast-iron guarantee whenever Rayo Vallecano hit the road and it's a surprise to see bets on over 3.5 goals and over 4.5 goals trading as high as 2/1 and 5/1 respectively. By standard conversion, my ratings suggest odds of 6/4 and 7/2 would be more appropriate.
Since Rayo gained promotion in 2011, their 89 away games have produced a grand total of 274 goals, an average of 3.08 per game. No fewer than 39 of those 89 matches have finished over 3.5 (around 44 per cent), implying odds of around 13/10 on that outcome here, while 23 (around 26 per cent) have finished over 4.5, implying odds of 29/10.
And there's nothing in their recent performances to indicate a dry spell might be imminent. The Franjirrojos have been breached twice in each of their five road trips since the winter break, a 2-1 defeat at Levante followed by four successive 2-2 draws at Valencia, Deportivo, Sporting Gijon and Real Betis.
Paco Jemez is waiting on the outcome of his appeal to red cards against Diego Llorente and Manuel Iturra in the midweek 5-1 home defeat to Barcelona before naming his starting 11, although he could be without as many as seven players, although it's not information that should discourage punters. Rayo will be Rayo, whatever 11 they field. With inferior players, Rayo will, presumably, only be more vulnerable to counter attacks.
Click here for more information about Mike Holden's shot-based ratings system
Over 3.5 goals - 1pt @ 2/1
Over 4.5 goals - 1pt @ 4.5