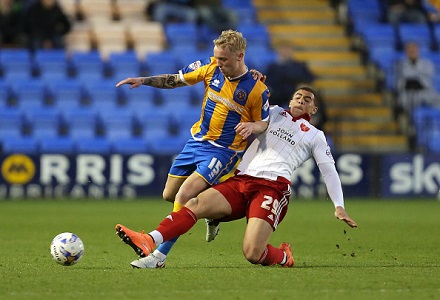 Walsall v Shrewsbury
Walsall were the proverbial rabbit caught in a car headlights when going down 4-0 at Bradford on Saturday, making a mockery of the many soundbytes offered by caretaker boss Jon Whitney in recent weeks. Now the Saddlers have to be opposed in a local derby against a Shrewsbury side thriving on a new back-to-the-wall approach that has brought instant results.

Whitney has been big on stock phrases about making history and praising the mental fortitude of his players in recent weeks, so it will be interesting to see how his men respond to him suddenly calling their desire into question. It usually goes one way or the other, and the Saddlers might need a few balls to drop kindly at the right moments if they are to avoid another crumble.

Shrewsbury are clearly inferior by any statistic you care to measure but they won't be found wanting for determination or resolve. Micky Mellon has looked to the Red Arrows for inspiration in recent weeks, recreating a form of 'practice chaos' in training, whereby Salop do little else other than defend their 18-yard box, heavily outnumbered and under the cosh.

The players have loved it, and it's showing on the pitch. Over the past three matches, they've scored five and conceded five from a 35 per cent shot ratio, withstanding prolonged periods of pressure in games against Bradford and Gillingham, yet scoring four times from seven breakaways. It's not sustainable over a season but in their current position, it's entirely appropriate.

Win this game and Salop will be safe.

Shrewsbury to win - 1pt @ 9/2
Wimbledon v Portsmouth
Seventh place entertains sixth as League Two tidies up its played column with what could yet be a dress rehearsal for the play-off final at Wembley on May 30. And with Wimbledon just two points away from booking their ticket to the end-of-season jamboree, nobody makes the case for backing the draw at 5/2 in this game better than Neal Ardley.

"I'm not worried about getting in front of Portsmouth - I'm really not," said the Dons manager after Saturday's 1-0 win over Leyton Orient, which put his team to 71 points. "We need 73 points to be guaranteed and we've got three games to get there. I'm not bothered about whether we finish seventh or sixth, or who we play, we've just got to get there."

Well, it just so happens these two sides are fairly well-matched in any case. The reverse fixture at Fratton Park was a dull 0-0 that produced a grand total of just nine shots (with both teams hitting the target just once over the 90 minutes) and the bumpy playing surface at Kingsmeadow is hardly conducive to an improvement form an entertainment perspective.

Portsmouth's season up to this point has been a botched job but now it's purely a matter of plastering the walls and Paul Cook can ill-afford any more inquests of the sort that seem to that follow every defeat. All in all, a draw suits everyone. A nothing game, no major secrets given away, handshakes all round, and quips about meeting up again at Wembley.

Wimbledon v Portsmouth draw - 1pt @ 5/2