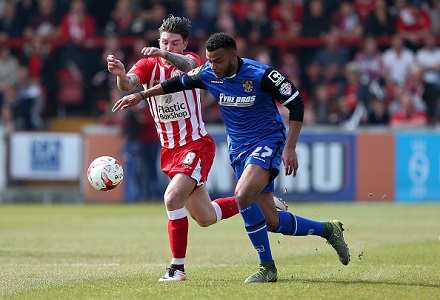 Accrington v Wimbledon - Wednesday 19:45, Sky Sports 1
The balance of this League Two semi-final tipped in Wimbledon's favour with Tom Beere's 93rd-minute winner at Kingsmeadow, but the reaction it sparked serves only to heighten the suspicion that Neal Ardley's men riding on an underlying lack of belief. The celebrations that greeted the final whistle were disproportionate to the actual significance of the result.
The inebriated state of the home crowd for a late Saturday evening kick-off should be taken into consideration, but the willingness of the Dons players to be caught up in the post-match euphoria wasn't a good sign. It's only half time. Had Beere's strike clinched a 2-0 lead, those scenes might have been a little more understandable. But a 1-0 lead is nothing.
"The way I see it, we could just as easily concede that goal in the first minute of the second leg. It's no different," said Accrington boss John Coleman. That's not always the case. Some injury-time goals in a first leg can have a huge psychological impact. But in this instance, Coleman's right. If anything, it might be a goal he looks back on as a blessing.
Accrington have no decision to make now, their mission for the return is simple: win the game, and preferably win it well. After the setback of losing their grip on automatic promotion in their last home game, it might well suit them holding nothing and having everything to gain, so take the 9/2 available on Accrington to qualify inside 90 minutes on the 'method of victory' market.
Happy though Wimbledon are as it stands, it is they who must now wrestle with the stick-or-twist conundrum. If they try to defend their lead, an early leveller leaves them in disarray, caught in the wrong state of mind. If Stanley are firing on all cylinders, then goals in quick succession are quite feasible, so consider also the 9/2 about Accrington to score over 2.5 goals.
Open an account with 888 Sport and get TREBLE odds on your first bet
The rationale is hypothetical, of course. The first leg was a scrappy affair with no obvious difference in class between the two sides. But that was just one match, played at Wimbledon's ground on Wimbledon's terms, where (in Coleman's words) the referee enabled the Dons to persist with "rough-house tactics", encouraged by non-reprisals.
However, the second leg could be a different match entirely and the league table over 46 matches tells you Stanley are the better team. Wimbledon's form has been excellent since the turn of the year but Ardley is curiously meek about their promotion prospects, repeatedly stressing that their involvement in these play-offs constitutes success.
The Dons undoubtedly finished on top in the first leg but there was a general feeling, suggested by Dave Bassett and later vaildated by Ardley, that Wimbledon were keeping it tight for 75 minutes, desperate to avoid a heavy defeat and a meaningless second leg. If referee Eddie Ilderton allows a football match to break out this time around, we might just find out why those concerns were there.
Click here for more information about Mike Holden's shot-based ratings system
Accrington to qualify in 90 minutes - 1pt @ 9/2
Accrington to score over 2.5 goals - 1pt @ 9/2