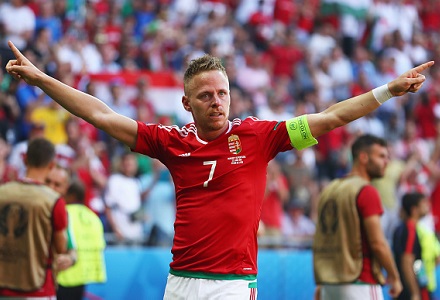 Mike Holden thinks Hungary can cause an upset against Belgium on Sunday night.
Hungary v Belgium - Sunday 20:00
Genuine upsets have been few and far between at Euro 2016 but don't let that put you off being bold about underdogs in the knockout stages. In football, predictability rarely sticks around for too long and there's high potential for teams in the top half of the draw to get ahead of themselves and lose sight of their immediate objectives.
At first glance, Belgium appear to be nailed-on for a semi-final berth. Of the top eight teams in the outright betting at the start of the tournament, they have - by some distance - been gifted the kindest route to the final on July 10. But opportunity doesn't always equate to increased focus, at least not when that opportunity goes beyond what's immediately in front of you.
It's the most common cause of choking: when concentration leaves the 'now' and jumps ahead to the future. On some level, some Belgian players have already imagined themselves playing in a semi-final, you can absolutely be sure of it. Yet any conscious awareness that 'only' Wales or Northern Ireland await in the quarter finals is going to impact on performance here.
To any country with a track record of international success, this wouldn't be such an issue. But for a nation like Belgium, one that has progressed beyond the last 16 of a major tournament only once in the last 30 years, the potential for a jittery performance is high, even more so when you consider that the current crop already carries the baggage of being dubbed a golden generation.
Get 5/1 on Belgium to beat Hungary with PADDY POWER
So far, the Red Devils have lived up to their billing for just 45 minutes at this tournament and their triumphant reaction to dispatching the Republic of Ireland served only to further expose underlying insecurities. They looked a decent side once their authority had been established in that game but they wanted everyone to believe it was a statement of intent, a slap in the face for their doubters.
Given the lack of conviction that followed against a dreadful Sweden side, punters are perfectly entitled to uphold their reservations about Marc Wilmots and his inability to present a coherent style of play. Right now, Belgium are mostly waiting for something to happen rather than seizing control of their own destiny and that makes them vulnerable.
In stark contrast to all of the above, Hungary are like the uninvited party guest who nobody knows, but is welcome to stick around anyway because they're on good form and bringing a good vibe to the occasion. Free-spirited doesn't even begin to cover their attitude right now and they could be precisely the last team an inhibited side like Belgium want to be up against.
The Magyars made seven changes in their last game and still put three goals past Portugal, so they have an advantage in virtually all circumstantial aspects. Morale is high, bodies are fresh and they have absolutely nothing to lose. Therefore, take the 13/2 about b>
Hungary
to win the game and throw an additional point on the
Draw/Hungary
half-time/full-time outcome at 14/1.
The second bet is purely a recognition of the fact that Belgium boast much superior personnel and better options from the bench. If Hungary take the lead too early, then there's probably a limit to the amount of pressure they can withstand. But if they keep it tight early doors, enabling themselves to get a foothold, any bombshell after the break might leave the Belgians floundering.
Click here for more information about Mike Holden's shot-based ratings system
Hungary to win - 1pt @ 13/2
Draw/Hungary half-time/full-time - 1pt @ 14/1