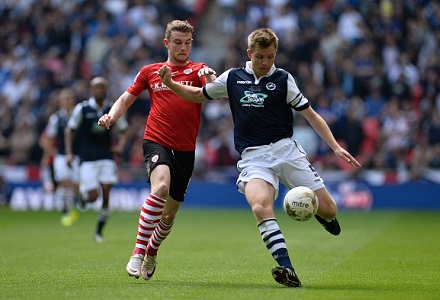 The top of the outright market in League One is crowded with caveats about virtually all of the leading contenders but for sheer continuity and reliability, one team stands head and shoulders above all others. Back Millwall to carry on where they left off last season by taking the title at 11/1.
The Lions aren't necessarily the best team in the division on technical ability but their results in 2016 indicate they already have everything it takes at this level. They've found a way to consistently win football matches through sheer tenacity and aggression. And had they not come up against a freak outlier in the play-off final, they would now be preparing themselves for the Championship.
Neil Harris' men finished the campaign with a solid 57 per cent shot ratio over the final 23 matches, which is more than sufficient for a team with their win-at-all-costs mentality to work with. And if they manage to hold on to Lee Gregory for another season, we should take their 47-point haul in return games as the benchmark for the whole of the next ten months.
Unfortunately, the Lions came up against a slick Barnsley side that kicked into overdrive three months ago. The Tykes boasted a staggering 64 per cent shot ratio over their final 23 matches, partly due to the fact they were fielding Ashley Fletcher and Lloyd Isgrove, a couple of young Premier League prospects who were simply a cut above the division.
But whereas most clubs would be inclined to carry such a bitter disappointment into the following campaign, Millwall are made of sterner stuff and can be trusted to come out fighting. When they last suffered Wembley heartbreak against Scunthorpe in 2009, they returned to complete the job by the same route against Swindon 12 months later.
Click here for all the best League One ante-post odds
Indeed, it was highly typical of Harris to remind us all of that fact straight after Wembley. With him, there's always a precedent that shows Millwall don't lie down and can always do better. So the same squad returns, ready to deploy the same rigid 4-4-2 system, with a bit of extra quality on the flanks (in Gregg Wylde and David Worrall) added for good measure.
Sheffield United have gone native with Chris Wilder after the happy-clappy positivity of Nigel Adkins proved too much to bear but punters considering the Blades at 6/1 should understand that Adkins arrived with four promotions under his belt and left with his tail between his legs. This isn't a club that harbours a winning culture anymore and the new man's ingenuity might be severely tested.
Wilder's stock has shot through the roof after one Midas-esque season with Northampton but his managerial career had been pretty mediocre prior to that, 13 seasons grafting in the Conference and League Two, never really getting his own way. Had United opted for Wilder ahead of Adkins 12 months ago, or Nigel Clough before that, people would have thought they'd lost their minds.
Charlton and Bolton both have big rebuilding jobs to do and might need a half a season to change attitudes and shift cultures, while it's questionable whether MK Dons can really consider themselves heavyweights at this level when they needed the quality of Dele Alli and Benik Afobe to sneak automatic through the back door two seasons ago.
Millwall to win League One - 1pt @ 11/1