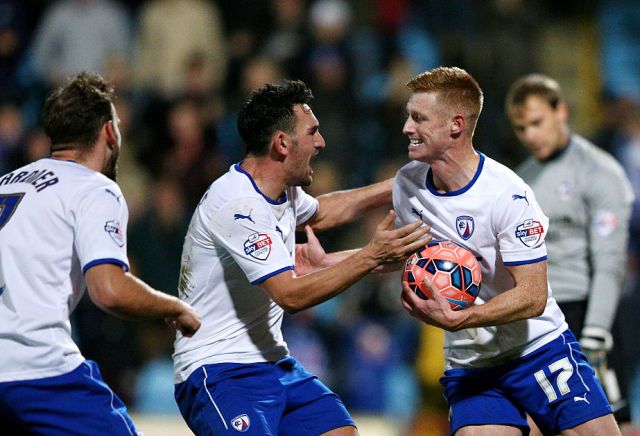 Over the past six years, 10 of the 18 teams who clinched automatic promotion finished the previous season in one of the six spots immediately below the play-offs, which is to say a mid-table sub-section that accounts for only a quarter of the division makes up more than half of its promotions the following year. In four cases, they won the title.
If that trend continues, we should expect at least one - possibly two - from Leyton Orient, Cambridge, Carlisle, Luton, Mansfield and Wycombe to be sitting in the top three next May, although Exeter and Barnet might also fancy their chances having cleared the 60-point barrier that ordinarily assures 13th position or better.
Of that bunch, Carlisle are my pick. They were going great guns until disaster struck last December, their Brunton Park pitch deemed unplayable for several weeks when Storm Desmond caused severe flooding to the region, their momentum disrupted by relocating home games and the sudden importance projected onto an FA Cup run.
The Cumbrians weren't quite top-three material at the time of the floods, but their business over the summer could ensure they are now. The strategy for recruiting players with prior promotion experience is probably a deliberate one, with ex-Bury and Northampton midfielder Nicky Adams now chasing automatic for a third straight campaign.
In Adams and Jamie Devitt, United have recruited two of the top three assist-makers in the 2015/16, setting up a combined total of 24 goals. Throw in Devitt's partner-in-crime Shaun Miller, also snapped up from Morecambe, and you get a killer partnership ready to flourish among better players. Miller scored 15 last season, for a team that finished fourth bottom.
Click here for the best League Two ante-post odds
But the driving force behind this bet is the much-maligned Keith Curle. The Bristolian is a bit of an eccentric, and not always in a good way, but when he's not accused of bullying players, it's usually because he has sorted the wheat from the chaff in terms of who fits his ultra-masculine philosophy. You sense Curle now has a dressing room he is proud to call his own.
Portsmouth are the team to beat. Paul Cook has previous for winning the title at this level with Chesterfield three seasons ago and their shot data last time around was more than adequate for automatic. But the end-product was under-cooked. Teams were parking the bus at Fratton Park and Pompey rarely had the answers. This time, they should be stronger for that experience.
However, their quality is more than factored into an outright price of 9/2 and we shouldn't allow their presence alone to dissuade us from the attractive 18/1 quotes about Carlisle, especially not when you can supplement the main wager with a cover bet on the Cumbrians to win promotion at 4/1. The next three teams in the betting all come with major doubts.
Darren Ferguson is typically talking-up Doncaster's prospects but, coincidence or not, his managerial record has been dreadful since his father retired, and his bizarre handling of Curtis Main towards the end of last season makes it hard to trust his judgement on recruitment, even though it's common knowledge only Portsmouth boast a bigger budget than Rovers.
Luton developed a penchant for gritty 1-0 wins towards the end of last term but I'm sceptical of the mileage in their new identity under Nathan Jones when most of their best work came against fatigued or disinterested opposition. The Hatters were crying out for some hands-on navigation following the ambiguous end days of John Still, yet their shot ratio never once climbed above 50 per cent.
Meanwhile, Leyton Orient boss Andy Hessenthaler has tried to get out of this division on a couple of occasions previously under similar conditions at Gillingham, yet twice failed to even make the play-offs. And you only have to look down a list of managers that have inhabited this division since his 2012 dismissal at Priestfield to understand that the overall standard has improved markedly.
Carlisle to win League Two - 1pt @ 18/1
Carlisle to win promotion - 1pt @ 4/1