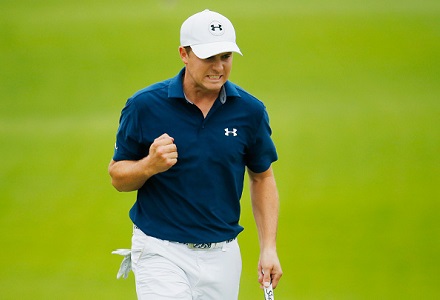 With four wins and four second places this year alone, the 12/1 about Spieth is far too tempting.
The Fedex play-off events continue this week with the BMW coming from Conway Farms in Chicago. The event has only been played here once before in 2013 when Zach Johnson took home the spoils. Interesting to note that week Jim Furyk shot a 59 so it's a course on the face of it which suits the more accurate golfer. However, after watching a few Periscope broadcasts from golfers at the course this week there may be a few different dynamics. Zac Blair commented on how tall the rough is and how firm the course is. He said that they would definitely need to water the greens before kick off tomorrow. It suggests to me that the course should play a bit tougher than last time, although still expect the odd very low score.
The field is down to 70 which will then be cut to 30 for next weeks Tour Championship. Sunday will be a nervous time for those around the bubble as making the final 30 for the final event is a huge achievement. They will all be jostling for position to give themselves a chance of the huge bonus prizes available next week. Jason Day is understandably favourite considering his recent form. He showed at the Barclays than he can reign his length in and play a more conservative approach to win events so we can't rule him out here. However I feel the next two in the market are more value.
I find it hard to see past
McIlroy
and
Spieth
this week. I have waited until now to send this preview out as I couldn't make my mind up with who to go with. It is not something I'm particularly fond of doing, backing two of the tournament favs, but they are both sitting at value prices and I'm afraid I can't separate them. Firstly, McIlroy may still be a shade rusty but I can't help from backing him at odds of 10/1 in this event. Double figures is too big. He finished with a final round 66 in the Deutsche Bank where he finally got his putting stroke worked out. That score was only beaten by one player in the field so it demonstrates that his game may be about to catch fire. In an event that he has won before and posted a top 10, albeit on different venues that this one, I feel 10/1 is a price worth taking. The firmer course certainly gives the better golfer more of a chance of overhauling the others, and in a field of only 70 golfers with half of them not really counting, we'll have a decent bet. His high ball flight should be ideal for coping with the firmer greens. What I distinctly remember about Conway Farms in 2013 is the fact that approach shots are paramount. Getting as close to the flags as possible is where you will make your scores. There is barely anybody in the game better than Rory at this, and so long as his putter behaves itself he should be right in the mix. He has notched two
first round leads
in this event at four attempts, and with the limited field I feel the 16/1 on offer is plenty big enough to have a small bet.
Rory McIlroy - 2.5pts @ 10/1
Lost 2.5pts
RoryMcIlroy First Round Leader - 0.5pts @ 16/1
Lost 0.5pts
As you know, I've been quite vocal about the lack of value in
Jordan Spieth's
price of late especially considering the length of some of the venues he has been playing. The quotes of 6/1 etc haven't been to our liking. However, two missed cuts on the trot has doubled that price and it is now worthy of investment. The main reason being this venue. It is short enough to make Jordan feel comfortable. His game gets upset whenever everybody is outdriving him by 50 yards. He tries to pull a bit more out of the bag and results in some wayward shots. Conway Farms should be right up his alley. He can plot his way around and make plenty of birdies with his silky putting touch. He showed at this years US Open exactly how prepared he is for dealing with the firmer course so it should pose no problem to the former world number one here. With four wins, and four second places this year alone, the 12/1 is far too tempting.
Jordan Spieth - 2.5pts @ 12/1
Lost 2.5pts
Matt Kuchar
is not without a fighting chance this week on a course he has played well on before. I've backed him a few times in the last couple of months and I do feel he is on the edge of winning something. He has had a decent few months with top 10s coming at the Canadian Open, the PGA and last time out at the Deutsche Bank. All parts of his game are in working order and if he can get the putter hot he'd have a serious chance of winning this week. The putter does tend to misbehave at times and this has been the main reason he hasn't been able to get to the lead on Sundays recently. He knocked it round here in 61 shots two years ago so the vibes should be good for Kooch. We missed out on a bit of 40/1, but 33s is still worth taking.
Matt Kuchar - 0.75pts e/w @ 33/1
Lost 1.5pts
Finally we'll have a small bet on
Chris Kirk
. His odds are very appealing around a course which should really suit his classy wedge game. He broke his hand in the summer which meant a prolonged absence over some big events. He returned to miss the cut in the Barclays, but a top30 finish in the Deutsche Bank was enough evidence to suggest his game was returning to some decent condition. He closed with a 66 to finish inside the top 25 here in 2013, and interestingly finished 2nd in a US Open qualifying heat at this course. I was very surprised to see quotes of 110/1 for this lad so we'll have a decent bet at the odds.
Chris Kirk - 0.75pts e/w @ 110/1
Lost 1.5pts