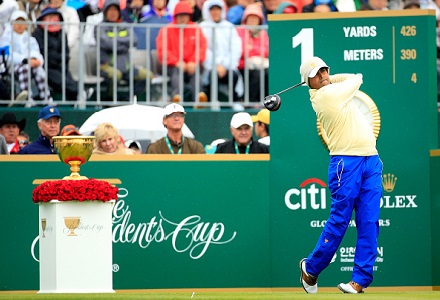 Everything points to a close game but the The Internationals must be supported.
The Presidents Cup heads to Korean soil this year and although the yanks land here as strong favourites, it looks far from a straightforward victory.
The Nicklaus designed course should make the event very exciting with plenty of birdies available to get both sets of fans wailing. The Americans, who have an exceptional record in this event once again have the better team on paper. They have plenty to go to war with.
The International side down the years has had multiple weak links but this renewal represents their best team team without a doubt. Jason Day has set the world alight this past few months. Adam Scott has certainly lost some form, but a return to team golf might just get his juices flowing. Oosthuizen and Grace have both shown superb form in majors this Summer and along with Danny Lee who has excelled this season on the PGA Tour they group together to form a formidable back bone to the side. Schwartzel and Matsuyama are also very talented on their day and Jaidee is only after winning on the European Tour. In The US team I would worry slightly about the form of Mickelson, Kirk, Walker and Haas, none of which have done a lot lately. It all points to a close game for me and it leads me to my first bet.
The Internationals must be supported at odds of 9/4
. This represents their best chance of taking this trophy. I consider the US team to be a bit top heavy and nowadays I don't consider Mickelson to be a positive influence on any team after he chucked his toys out of the pram at last year's Ryder Cup.
Internationals to win Match - 2pts @ 9/4
Lost 2pts
Jordan Spieth heads the market for Top American points scorer and I don't believe the 4/1 to be of much value. He is a pleasant enough bloke but there will be a target on his back for the Internationals and with a game on home soil they will be looking to take the world number one out by the roots. I don't believe he'll get anywhere near maximum points because of that, even though his putting should give him a big advantage over the rest. Instead I see the value lying with
Matt Kuchar
. Kuchar goes out with a matchplay specialist in Patrick Reed. He relishes these matches and although they are up against tough opponents in Oosty and Grace in the foursomes, I expect them to give it a right go. Kuchar has a better fourball record therefore I'd expect him to play all four games before the singles should he win his first match. The first match is therefore crucial to his chances. In the 2012 Ryder Cup he partnered Dustin Johnson to two fourball victories. He then partnered Tiger to win 3 games in the 2013 President's Cup renewal. He has a wealth of experience and I fully expect Kooch to be placed in the yank market should be oblige in his first match. Definitely worth the chance at a top price of 12/1.
Matt Kuchar Top American - 1.5pts e/w @ 12/1
Lost 3pts
Our final bet will be a smaller bet on
Jason Day
to be top of the International pile come Sunday Afternoon. He is by far and away the best golfer in the side and despite a disappointing finish in the Tour Championship he will relish this game after a mentally taxing year. I fully expect him to go out and enjoy it with little pressure on his shoulders. He lines up with Bowditch on day one for the foursomes against Phil and Zach. This for me is the best chance of a point on day 1 for the Internationals. Mickelson has not been firing this year even though he has a decent foursomes record. The gulf in class off the tee between Phil and Day I believe will decide this match. Bowditch is slowly maturing into a very good player on the tour and I believe it's a good ploy by Price to pair the experience of Day with Bowditch. I expect the home team to get a point on board on this match and Day has every chance of going on from then to play in the full 5 matches. He will be hard to beat no matter who he plays and for me rates a much better bet than Spieth in the other team's market. Tournament Kicks Off at 3am on Thursday morning.
Jason Day Top International Points Scorer - 1pt @ 4/1
Lost 1pt