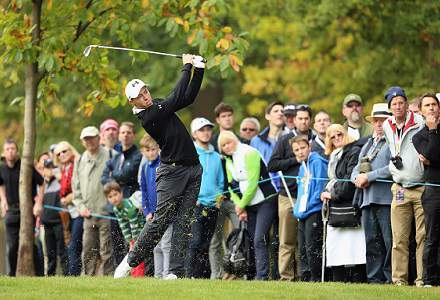 Playoff heartbreak continued on Sunday evening with Kevin Na wilting on the 74th hole of the week allowing Argentinian starlet Emiliano Grillo to take home the spoils. Na played magnificent stuff all week and without the luck that presented itself to Grillo might have walked away with the title after 72 holes. Anyhow, more profit bagged and we move onto this week's platter beginning with the USB Hong Kong Open.
This Hong Kong GC is a short, tree lined layout where accuracy off the tee is a premium. If you start spraying the ball then you could leave yourself blocked out on your approaches. Your wedge game needs to be on song if you are to score around here. Therefore this course once again suits strong bets. Those who are not the longest off the tee tend to have a solid wedge game and if you can get the putter rolling you will be in business.
Miguel Angelo Jimenez has won four times around this track so it goes to show you the neat and tidy player is at a distinct advantage. We can't discount the longer hitters as McIlroy and Scott Hend have won here so a good driving week could result in a great score. Primarily we will look at the more accurate type in terms of betting purposes with the hope one or two of them contend over the weekend.
Justin Rose has only played here once when he missed the cut and his quotes between 5/1 and 6/1 are some of the shortest I've seen all year. Rose travels from the Frys event to get here with short of two days to prepare and despite playing well last weekend we can't invest at those odds. His putting remains his achilles heel and it is very risky going on in Justy at these odds. Little reward. Bookies opinions are wide ranging on the chances of the second jolly Dustin Johnson. He is as short as 5/1 and as tall as 9s. Even at 9/1 I would not be very tempted to bet but with the vast difference in pricing with many firms it will be interesting what way the tournament match will be priced between them if anybody throws it up. Either way we can let Dustin win unbacked at these odds.
There is no doubting our top selection this week, you've guessed it,
Matt Fitzpatrick
. Since Woburn I have found myself regularly changing the words to Morrissey's classic 'You're the one for me fatty' to 'You're the one for me Matty' while chanting in the shower in the mornings. You may think I have a crush on him...I do. I have stated before the brilliance he has shown since playing full time this year. I won't list them again, only to note that his win at Woburn was nothing short of spectacular. He found himself nearly out of the event heading into the back 9 but didn't panic. Instead he stayed patient (a trait I wasn't sure he had) and waited for the opportunities. They eventually arrived and the Sheffield lad showed his courage standing on 17 tee under severe pressure and knocking it stone dead. I still get the impression the bookies are unaware of how good this lad will be. He won't rest until he gets himself into the top50 in the world rankings and qualifying for the biggest events.
This track, just like Italy where he finished 3rd, and Crans where he finished 2nd is tree lined and tight. He certainly knows where to tee it up to play to his strengths and despite two heavyweights above him in the market I see him as the most likely winner in the field. A very solid bet at odds of 16/1. The stake broken down is 1.5pt ew, and 1.5pt win.
Matt Fitzpatrick - 1.5pts e/w @ 16/1
Placed 0.75pts
There's no doubting our second selection either, another strong selection in
Anirban Lahiri
. When Lahiri won the Indian Open last year following on from his success in Malaysia a few weeks previous he shot up the world rankings and gained entry into the biggest events on both tours. His results have been somewhat average until he started to play better towards late summer, early autumn. A 5th placed finish at Crans was followed by a mighty performance to post the same finish at the year's final major at Whistling Straits. I was happy to see this as up until then I regarded his form as a bit streaky and not really worthy of serious consideration in bigger events. He has a modest record around here with a few missed cuts with his best finish arriving in 2013 when he finished 13th. His game has matured though and I expect a more serious title tilt this time around. He clearly likes these tree lined layouts with two good finishes in Crans and his win in India is notoriously difficult off the tee. With his last performance at Whistling Straits we just have to chance him at the odds.
Anirban Lahiri - 1.5pts e/w @ 25/1
Lost -3pts
Our third and final dart this week is the talented Swede
Rikard Karlberg
. Where accuracy is a premium this year he has excelled. Having finished 9th in Crans he posted a top 15 finish in Denmark before moving to Italy to gain his maiden victory on tour. All three of those courses are catered for the shorter more accurate golfers. The Hong Kong GC is no different.
It was interesting to note Eddie Pepperell's thoughts on Karlberg of whom he said will win many events on the tour. Eddie considers him to be one of the more talented golfers out there. This was interesting to note and maybe his game is maturing and getting over the line in Italy again Kaymer in a playoff will do him the world of good. I can see him going onto win more events and this one suits his talents. I'll be keeping him onside no doubt come March whenever he plays at Black Mountain in Thailand, his home course. I wouldn't go big odds he lands a tournament before then so we'll have an interest this week surely.
Rikard Karlberg - 1pt e/w @ 55/1
Lost -2pts