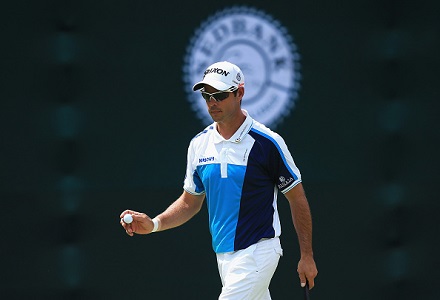 Jaco Van Zyl is one of two selections in this week's BMW South African Open at Glendower.
Our quest for our first winner in 2016 starts at Glendower, scene of a few interesting years since it starting hosting the event in 2014. I backed Hennie Otto when he seemed home and hosed with a few holes to go a few years ago only to capitulate on his way home. Last year I was on the other end of the miracle having backed Andy Sullivan who beat Schwartzel in a playoff after Charl had blown an even bigger lead than Hennie a year previous. This year the tournament should play a fair bit easier than when Sully won. The wet conditions last year meant the rough had grown quite considerably but this year the weather has been a lot more favourable and the course should be back toward the birdie fest we know. That means there will be a shade more room for movement off the tee.
This tournament looks a tough one to crack this year with a very weak field turning up. Grace and Sullivan are the two attention grabbers and should Grace warm to his task at all he might be hard to beat. However, I am unsure of the course for him and although the extra room should be to his liking, I can't invest at odds as short as 5/1. Sullivan is another hard to write off however I feel he was helped by the difficulty of the course last year and with plenty of birdies on offer I can't advise a bet at more than half of the odds he was here last year.
In what is a tentative top selection in a difficult betting heat I've opted to have my biggest stake in the tournament on
Jaco Van Zyl
. Despite criticism from many quarters about his inability to finish off an event it is worth noting that last year was very decent for the South African. A 2nd and 3rd at big events in Turkey and France were backed up by the same results in Joburg and Morocco for a 21st place in the Race to Dubai. That was a top effort for a fella who doesn't have the same capabilities of the majority in the upper echelons of the tour.
He was around the lead in the Nedbank for a long period also before faltering. This lad is certainly improving and we can't rule him out of gaining a win in his home country where he gained a multitude of wins on the Sunshine tour. His price is on the skinny side I admit however considering how he played at the back end of last year I am more than prepared to risk a few quid.
Jaco Van Zyl - 1.25pts @ 20/1
Lost -1.25pts
I am literally running around in the dark trying to find another selection and the only option I am left with is
Marcus Kinhult
. Nobody else appeals in the market and apart from these two I'll have to let that be the height of our staking in this event. There is nowhere else to turn.
Kinhult was very impressive in his three European tour starts last year and if neither of favs begin to fire this young Swede might just take the opportunity. His best finish was in Crans with a tied 10th finish. Interestingly Glendower is similar to Crans in that it is played at altitude therefore Marcus might just take to here. He is very talented and came across that he is quite cool on the course. I believe he will land a tournament this season and this probably rates as one of his better chances so we'll have a bet at 40/1.
Marcus Kinhult - 1pt e/w @ 40/1
Lost -2pts