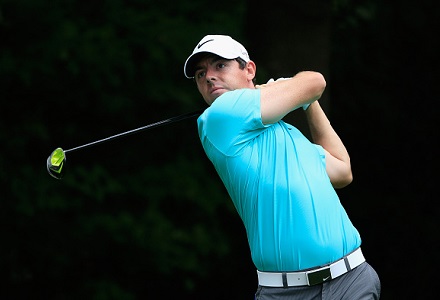 Dustin Johnson lines up to defend the title he won last year on the back of a long break from the game. The scarily named 'Blue Monster' at Doral has been a staple diet of the PGA Tour for many years and after a re-design a few years ago certainly gives a fright once again to the pros. The course is a haven for bombers and those who struggle to reach the 300 yard mark off the tee will certainly have their long game tested to the extreme with plenty of dangers lurking. JB Holmes, Adam Scott, Dustin Johnson and Bubba Watson have all dominated the places over the last few years and there is little point in looking anywhere else bar the big hitters.
Rory McIlroy
arrives as a somewhat weak favourite as question marks begin to surface around two powerhouses in the game of golf. McIlroy is under severe pressure with his short game and a missed cut last week might be the kick up the behind he needs. Mentally he remains very fragile but double figures has to be pounced upon when Rory tees it up at a venue which is dominated by length off the tee. His game was way off here last year yet he still managed to notch a top ten, his fourth in his last five outings at Doral. Putting it simply, if his long game is in good nick this week he has a very good chance. He needs to avoid the trouble lurking on this course and his short game shouldn't be under as much scrutiny as recent weeks. Generally speaking his long game has been okay. Last weeks missed cut only serves as back up to the thinking the Honda is almost win or bust for Rory down the years with erratic results.
The Doral set up is more to his liking and I expect him to come to the table this week after the last few weeks being dominated by the so called 'next big 3'. Spieth continues to struggle with his putter in 2016 and he comes to Doral at 11/1. I personally feel it is a very tempting price considering he could strike back into gear with the flat stick at any point. His record here is modest however and I can see his long game struggling a bit with the many dangers that lurk around this course. I wouldn't put anyone off backing him at 11s though, it is a bit juicy.
Rory McIlroy - 3pts e/w @ 10/1
Placed 4.5pts
Louis Oosthuizen
got to grips with this venue last year with a 6th placed finish posted but he arrives here in a lot better nick than he did last year. He gathered momentum last year, especially in the majors later in the year and last weeks win was no surprise. He too has the power to tame this course. He was mighty impressive last week and I always feel Louis is one to follow when he starts to flow freely. The odd time his swing gets a bit technical but last week was the best I've seen him swing the club since his Open Championship win. He hit 75% of fairways and a remarkable 93% of greens on his way to winning in Perth. He regularly follows up good performances and another strong showing here will have him enter the reckoning for the Masters in April. Nobody on the planet swung a golf club as sweetly as he did last week so the 40/1 is too much of a tempter at Doral.
Louis Oosthuizen - 1.25pts e/w @ 40/1
Lost -2.5pts
Justin Thomas
is well worth supporting this week after an impressive week at the Honda. He finished tied 3rd there and seems to go well on courses that are a bit narrower and where danger awaits errant shots. Although scores are very low at the CIMB some targets look similar to the PGA National and Doral. The re-design of this course a couple of years ago plays into Thomas' power game and I'd be very surprised should he not shoot decent scores this week. I was hoping the bookies would dangle a bigger carrot than 45/1, early shows of slightly bigger never lasted a tick. He is however still one of the best betting prospects in the tournament. He has been a shade shaky under pressure at times and this will be without doubt his biggest win should he do the business so I can't see it being plain sailing if he does contend on Sunday.
Justin Thomas - 1pt e/w @ 45/1
Lost -2pts